Travelers brave traffic as Dragon Boat break ends
Traffic was heavy around the Hsuehshan Tunnel as travelers headed back home on the last day of the Dragon Boat Festival holidays yesterday.
Traffic heading north on the Chiang Wei-shui Freeway turned heavy at around 1pm, when a car broke down at the 16km post. Because of the accident, motor vehicles inside the tunnel were forced to operate on one lane only and to reduce their driving speed to 20kph.
At one point, the queue before the northbound tunnel stretched back about 5km to the Ilan interchange. The traffic eased up around 6:30pm.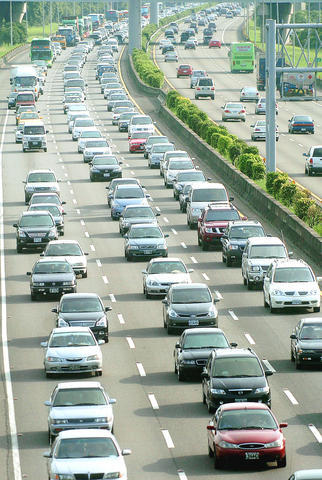 Travelers battle the traffic on the Sun Yat-sen Freeway during their return on the last day of the four-day Dragon Boat Festival holiday yesterday.
PHOTO: CHEN TSE-MING, TAIPEI TIMES
Traffic on other national freeways also became slightly heavy yesterday afternoon.
The Taiwan Area National Freeway Bureau reported at 6pm that traffic was slow between Yangmei (楊梅) and Jhongli (中壢), Hsinchu (新竹) and Chupei (竹北) and Yuanlin (員林) and Puyan (埔鹽) on the Sun Yat-sen Freeway and between Baoshan (寶山) and Chulin (竹林) on the Formosa Freeway, with cars running at approximately 30kph to 50kph.
To cope with expected traffic increase during the four-day holidays, the bureau had arranged to open the shoulders along the sections between Neili (內壢) and Jhongli (中壢) interchanges on Sun Yat-sen Freeway and between Dasi (大溪) and Longtan (龍潭) interchanges on the Formosa Freeway.
Homebound travelers also flocked to railway stations and freeway buses nationwide. The Taiwan Railway Administration said yesterday it was expecting more than 500,000 northbound passengers on the last day of the four-day holiday.
Another 31 trains were deployed to facilitate transportation, it said.
Crowds were seen at the airports in Kinmen and Matsu yesterday morning as well, as a majority needed to return to work in Taiwan today.
Comments will be moderated. Keep comments relevant to the article. Remarks containing abusive and obscene language, personal attacks of any kind or promotion will be removed and the user banned. Final decision will be at the discretion of the Taipei Times.