Pensioner donates prime real estate for sports park
Concerned about the lack of places for people to exercise in his village, 71-year-old retired teacher Chen Kun-feng (陳坤豐) has donated two plots of land totaling 700 ping (more than 2,300m2) to his native Tapei Township (大埤鄉), Yunlin County, on condition they are made into a park and a sports field.
The land -- which has a market value of between NT$4 million to NT$5 million (US$120,700 to US$150,850) -- includes more than 100 ping of prime real estate located next to a highway.
Chen, who lives in Nikuan community (尼姑庵社區) in Nanhe village (南和村), became a primary school teacher before his 20th birthday. In those days, few people in the farming community could read or write and Chen helped them to learn. He was popular and well known in the community and people often came to him with their problems.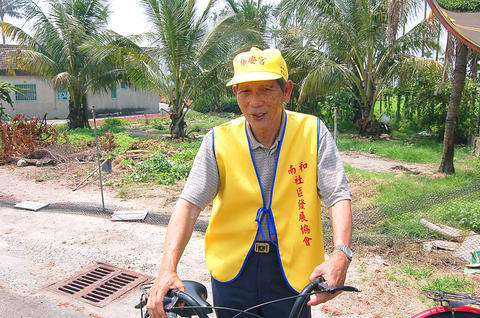 Chen Kun-feng, a 71-year-old retired teacher, bikes to his next volunteer assignment last Saturday. Chen recently donated two large plots of land totaling for a community park and sports field.
PHOTO: HUANG SHU-LI, TAIPEI TIMES
Chen has six daughters and one son, who all did very well at school. Three of his children now live and work in the US, and since his retirement he and his wife often visit them and their families. The children in the US wanted their parents to move there, but Chen said he prefers village life.
Taiwan is a heavenly place for the elderly, Chen said.
When Chen, who is also an environmental protection volunteer, heard that there was a lack of recreational areas in the village, he promptly donated the two pieces of land to be used as a park and a sports field. He has already given the land use rights agreement to the township office and the bureau is appointing a designer to make plans for both areas.
Tapei Township Mayor Chen Shu-chi (陳樹吉) said he deeply admired Chen Kun-feng for his selflessness in unconditionally donating the land to the village.
Comments will be moderated. Keep comments relevant to the article. Remarks containing abusive and obscene language, personal attacks of any kind or promotion will be removed and the user banned. Final decision will be at the discretion of the Taipei Times.