Newsmaker: GIO minister poised to bring a smile to new post
QUICK WIT Shieh Jhy-wey is happy to be coming home and hopes to use experience gained as the nation's representative in Germany to help him as he takes up his new job
Shieh Jhy-wey (謝志偉), the newly appointed minister of the Government Information Office (GIO), has always been known for his quick wit and sense of humor.
A diplomat who worked with Shieh in Germany where he served as Taiwan's representative, told the Taipei Times that Shieh is a person full of fresh ideas.
He is also someone who will immediately carry out an idea when this idea is practical, the official said.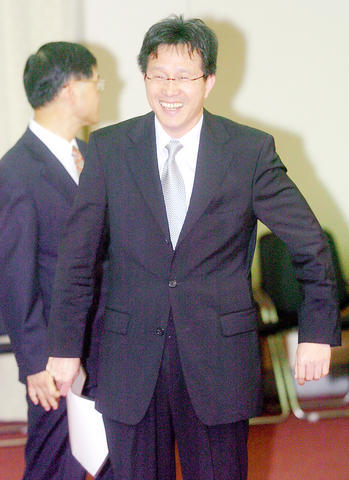 Shieh Jhy-wey, the newly appointed director of the Government Information Office, is pictured smiling in this photo on April 25, 2005.
PHOTO: CHEN TSE-MING, TAIPEI TIMES
"Since he first came here in 2005, he has tried hard to click with local people and local culture," the official said. "On one occasion Shieh selected a crowded street corner. Standing there, he began to introduce himself to people in fluent German and tried hard to bring their attention to Taiwan-related issues."
Born in Keelung on Jan. 6, 1955, he earned a bachelor's degree in German Literature from Soochow University in 1977 and a master's degree in German Literature from Fu-jen Catholic University in 1980.
He also obtained a doctorate in German Literature in 1987 from the Ruhr-University in Bochum, Germany.
Shieh's career background has mainly encompassed German education but he has also taken part in politics and the media.
After earning his doctorate in 1987, Shieh stayed in Germany to conduct further research until 1994.
He also taught German part-time at Soochow University and, starting in 1995, he taught German at both Soochow University and Fu-jen University.
Shieh became the director of Soochow University's School of Foreign Languages and Culture in 1996 and stayed in the post until 2002.
In 2003, he was a columnist for the Chinese-language Liberty Times (the Taipei Times' sister paper) and hosted a political talk show on TV.
Shieh began his involvement in Democratic Progressive Party (DPP) campaign activities in the 1990s.
He hosted campaign activities for President Chen Shui-bian (陳水扁) when Chen was running for Taipei mayor in 1994, 1998 and during Chen's presidential bid in 2000.
A second generation Mainlander, Shieh, however, speaks fluent Taiwanese and enjoys speaking it.
Shieh has used his sense of humor to attract young people to become DPP members.
He has even rapped DPP policies. Crowds often burst into laughter at Shieh campaign events.
In 2002, the DPP government approached him and asked him whether he would accept an invitation to be the GIO minister but Shieh turned it down.
Since then Shieh has also been a regular on TV talk shows.
In 2005, he was appointed as the nation's representative to Germany.
Former Berlin mayor Wolfgang Luder told the Central News Agency (CNA) in an interview that Shieh did a good job as Taiwan's representative to Germany.
"His (Shieh) job was difficult but he could always overcome difficulties with his sense of humor and his remarkable fluency in German," Luder was quoted as saying in the interview. "I think it is quite difficult to find another qualified person to succeed Shieh. I hate to see him leave."
People First Party Legislator Chang Hsien-yao (張顯耀) said he is worried that Shieh will turn the GIO into a public relations department for the DPP.
Before returning to Taipei, Shieh told the CNA in Berlin on Friday that he was quite confident about his new position because what he had been doing in Germany overlaps parts of his new job.
"As a representative here, it is my job to deliver the message to our German friends and continue to introduce Taiwan-related issues to them as well," he was quoted as saying. "I think this overlaps with the GIO minister's job description."
Saying that he has been away from home for two years, Shieh said it is good for him to have a chance to return home.
"I will come back [to Taiwan] with my experience as a diplomat and dedicate myself to the new job," he said.
Comments will be moderated. Keep comments relevant to the article. Remarks containing abusive and obscene language, personal attacks of any kind or promotion will be removed and the user banned. Final decision will be at the discretion of the Taipei Times.