Mingde Elementary School kids meet foreign students in cultural exchange
By writing calligraphy, making dumplings and enjoying Samba from Brazil, 24 foreign students showed their passion for Chinese language and culture, while introducing cultures from their own countries to some elementary school students in Taipei.
After joining the Youth Exchange Program under Rotary International, the group of high school students have been learning Chinese in Taiwan for three months, demonstrated their Chinese skills during a visit to Taipei's Mingde Elementary School yesterday.
"Hello, my name is Lisa," 16-year-old German exchange student Lisa Rappold said in Chinese while introducing herself to students and teachers at the school.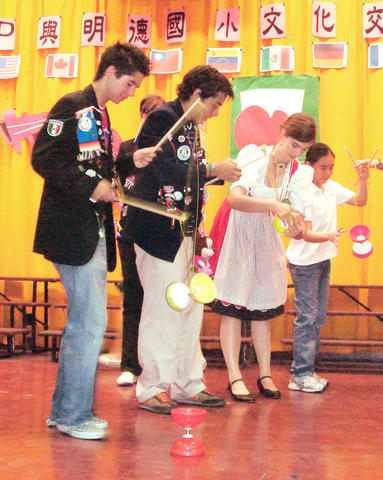 A group of foreign exchange students try their hand at the diabolo, also known as Chinese yo-yo, at an international cultural exchange event in Taipei's Mingde Elementary School yesterday.
PHOTO COURTESY OF TAIPEI MUNICIPAL MINGDE ELEMENTARY SCHOOL
Besides speaking Chinese, the foreign students from countries including Germany, France, Mexico, the US and Canada, experienced other traditional cultures such as writing down their Chinese names in calligraphy, playing diabolo and making boba milk tea.
Exchange students from Germany and Brazil introduced their cultures with dancing and singing performances, receiving a warm welcome from the school students.
"It's very cool. I want to be an exchange student in the future, too, and experience various cultures from around the world," Paul Chen, a six-grader from the school said.
Lin Mei-lin (林玫伶), principal of the school, said the event yesterday was an extension of the school's international reading program.
"Students read books that introduced customs from different countries during the program, and the students are all excited to meet these foreign students today and to personally experience the cultures they read about in the books," she said.
Comments will be moderated. Keep comments relevant to the article. Remarks containing abusive and obscene language, personal attacks of any kind or promotion will be removed and the user banned. Final decision will be at the discretion of the Taipei Times.