Activists challenge Su to open debate over freeway
INTERNET PETITION More than 23,000 citizens have signed an online petition since March 5 against the Suhua Freeway because of environmental concerns
Environmental groups opposed to the freeway between Suao (蘇澳) and Hualien challenged Premier Su Tseng-chang (蘇貞昌) to a debate over the impact of the proposed construction outside the Executive Yuan yesterday.
Taiwan Environmental Protection Union Secretary-General, Ho Tsung-hsun (何宗勳) said Su was singled out by the groups because he is not only the premier but also a presidential contender for next year's election.
"Su is the only one of the Democratic Progressive Party's (DPP) potential candidates who does not oppose the Suhua freeway project," Ho said.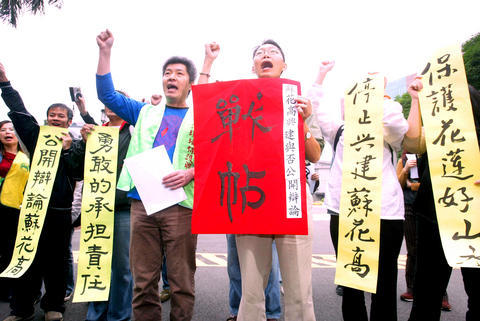 Environmental groups rally outside the Executive Yuan yesterday to protest the government's plan to build a freeway linking Ilan and Hualien counties and to challenge Premier Su Tseng-chang to a debate on the plan.
PHOTO: CNA
"That is why we are challenging him to an open debate. We believe that the freeway violates the core values of the DPP, which has promised to protect Taiwan's environment in their party platform," Ho said.
The proposed freeway would make Hualien only a 90-minute car trip from Taipei.
Protesters say, however, that the cost of the freeway outweighs the benefits both in terms of the environmental impact and for the long-term welfare of Hualien residents.
"This freeway will not solve Hualien's problems," said Tsai Chung-yueh (蔡中岳), a native of Hualien who currently attends National Taipei University. "It is not worth it to harm our greatest asset, our environment, to attract a crowd of day-trip visitors who come and go."
Tsai has started a petition against the freeway on the Internet.
He has collected more than 23,000 signatures since March 5.
In addition to the Taiwan Environmental Protection Union, the Green Party, the Homemakers' Union and Foundation, the Green Formosa Front, the Society of Wilderness and other groups were also present yesterday.
Green Party Taiwan Sectary-General Pan Han-shen (潘翰聲) said the project threatens the country's fragile waterways.
"We've already seen how the Hsuehshan Tunnel (雪山隧道) has severed ancient waterways. This new freeway is going to be even worse as it will involve 40km of tunnels," he said.
"This will negatively impact the groundwater supplies the people of Hualien rely on," he said.
"If we can take a fraction of the money earmarked for the project and spend it on improving railways we will be able to reduce the trip from Taipei to Hualien to 110 minutes without damaging the mountains and waters of Hualien," he said.
"Reducing automobile travel is also our moral responsibility in the face of global warming," Pan said.
The groups demanded a response from the Executive Yuan within one week's time.
Comments will be moderated. Keep comments relevant to the article. Remarks containing abusive and obscene language, personal attacks of any kind or promotion will be removed and the user banned. Final decision will be at the discretion of the Taipei Times.