Group exposes abattoir practices
UNPALATABLE A number of slaughterhouses around the country are killing pigs and other animals in ways that prompted a group to call for stricter enforcement
An animal rights group asked the government yesterday to strictly enforce regulations to prevent inhumane practices in slaughterhouses across the nation.
In 2005 and last year, the Environment and Animal Society of Taiwan (EAST) conducted inspections in 27 government-run slaughterhouses across the nation and found that inhumane slaughter practices were still largely in use despite the government's commitment, made in 2000, to ban such practices, EAST official Chen Yu-min (陳玉敏) said.
"In 2005 alone, more than 70 percent of pork sold on the market -- especially in traditional open-air markets -- was from pigs inhumanely and illegally slaughtered," Chu Tseng-hong (朱增宏), president of EAST, said during a press conference yesterday.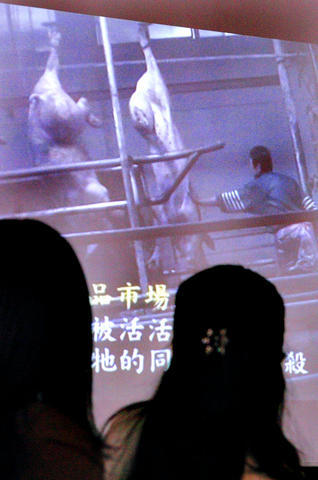 The Environment and Animal Society of Taiwan shows footage, shot by its own inspectors, of butchers picking up pigs to be slaughtered at a press conference yesterday.
PHOTO: GEORGE TSORNG, TAIPEI TIMES
Video footage shot by the group's inspectors was shown during the press conference.
In it, butchers were seen picking up the pigs to be slaughtered by the upper part of their mouths with a metal hook and cutting their throats while the pigs were still alive.
The pigs were then hanged high so that the blood would drop into a bucket placed underneath.
Then, while most pigs were still struggling, they were dropped into boiling water to make it easier to remove their hair.
"There are laws prohibiting such inhumane slaughter practices, but they're not being enforced," Chu said.
The Husbandry Law (畜牧法) stipulates that pigs cannot be slaughtered prior to being stunned. Similar regulations also exist in the Animal Protection Law (動物保護法) and Regulations on Slaughter Operations (屠宰作業準則).
In a report released yesterday, the group said that in order to comply with the law, pigs should be stunned by electric shock or made to breathe carbon dioxide.
Lawmakers attending the press conference vowed to push for stricter laws.
"We will push for an amendment to list animal welfare as a criterion for certified agricultural standards, and to require that slaughterhouse workers acquire an official licence," Democratic Progressive Party Legislator Tien Chiu-chin (田秋堇) said.
She also called on consumers to boycott pork products coming from slaughterhouses known to be conducting the inhumane slaughtering of animals.
In response, Lin Ching-chung (林進忠), an official at the Council of Agriculture, said the Council would start fining slaughterhouses that have illegal practices.
Comments will be moderated. Keep comments relevant to the article. Remarks containing abusive and obscene language, personal attacks of any kind or promotion will be removed and the user banned. Final decision will be at the discretion of the Taipei Times.