MAC head plays down role in draft constitution
NEW MAN Chen Ming-tong sought to divorce himself in his new role from a draft constitution he helped draw up as a National Taiwan University professor
New Mainland Affairs Council (MAC) Chairman Chen Ming-tong (陳明通) yesterday said his proposal for a "second republic" constitution would not affect council policy.
Chen made the remarks at the take-over ceremony held yesterday in which outgoing chairman Joseph Wu (吳釗燮) handed over his tasks to Chen.
"I am not worried at all about leaving this position since the new leader of the MAC is a master in cross-strait relations," said Wu, who will fly to Washington tomorrow to take up the office of the country's de facto ambassador to the US.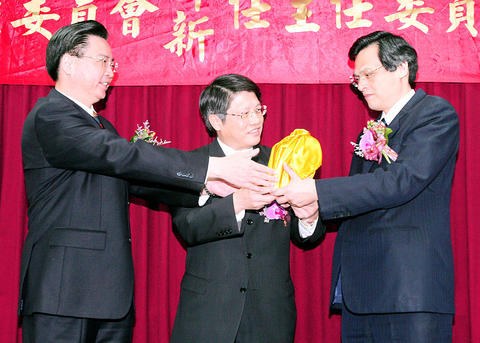 Newly appointed chairman of the Mainland Affairs Council Chen Ming-tong, right, receives the seal of office yesterday from his predecessor, Joseph Wu, left, who has been appointed Taiwan's new representative to the US. Looking on is Minister Without Portfolio Hsu Chih-hsiung.
PHOTO: CNA
Chen, who had previously served as the vice chairman of the council from 2000 to 2004, said he would safeguard the sovereignty and dignity of Taiwan and continue to promote cross-strait exchanges while ensuring national security.
When asked whether the "second republic constitution" he drafted would be part of the council's new policies, Chen's reaction was low-key.
The question referred to a new constitution drafted by him along with a number of other academics. The draft was made public last month when Chen was still a professor at the National Taiwan University's Graduate Institute of National Development.
The draft constitution states that the Republic of China (ROC) was founded in 1912 and relocated to Taiwan in 1949 after the establishment of the People's Republic of China. The 1912-1949 entity is considered the "first republic" of the ROC.
At the time Chen said that the "second republic" constitution was written according to the needs and political reality of Taiwan and that it could provide a constitutional authorization for cross-strait negotiations.
"The draft of the second republic constitution is an accomplishment worked out by Professor Chen. I don't think it is not appropriate for Chairman Chen to answer the question for Professor Chen," he said yesterday.
"The government is a team and there will be an integral policy for the team. The draft of the second republic constitution will have nothing to do with my job at the MAC," he added.
But Chen said that the draft offers an alternative for Taiwan and it is worthy of discussion if "Chairman Chen" could refer to the research of "Professor Chen."
Comments will be moderated. Keep comments relevant to the article. Remarks containing abusive and obscene language, personal attacks of any kind or promotion will be removed and the user banned. Final decision will be at the discretion of the Taipei Times.