Low voter turnout forecast for KMT chair by-election
DECREASE Although more than 50 percent of KMT voters participated in the last poll for chairman, only about 40 percent are expected to vote this time
Voter turnout for today's Chinese Nationalist Party (KMT) chairmanship by-election is expected to be low, as the one-sided race and the Tomb Sweeping Holiday dampen enthusiasm among potential voters, political observers said yesterday.
While the contest between former chairman Ma Ying-jeou (馬英九) and Legislative Speaker Wang Jin-pyng (王金平) attracted more than 50 percent participation among KMT voters in July 2005, the party estimates about 40 percent voter turnout this time.
Candidate and former acting chairman Wu Poh-hsiung (吳伯雄) has been relying on Ma's endorsement in the runup to the vote, while his opponent, KMT Legislator Hung Hsiu-chu (洪秀柱), has been stressing that the party would benefit from having a woman in charge.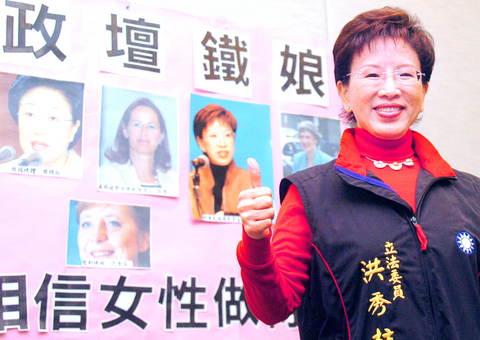 Chinese Nationalist Party (KMT) Legislator Hung Hsiu-chu gives the thumbs-up at a press conference yesterday, where she presented photos of other female political leaders from around the world.
PHOTO: GEORGE TSORNG, TAIPEI TIMES
Wu spent the last night before the election today with Ma at a rally at the Taoyuan Irrigation Association, while Hung telephoned supporters from her campaign office in Yonghe.
Today's election will have another dynamic changed, as party members who haven't paid their membership dues will not be able to vote.
There were 1.04 million eligible voters in the 2005 race, but only 337,000 will be allowed to vote this year under the new policy.
The new rule was initiated by Ma when he was KMT chairman.
Ma resigned as KMT chairman after being indicted on corruption charges on Feb. 13.
The winner of the race will officially take over the position on April 11, and serve out the rest of Ma's term until August 2009.
Comments will be moderated. Keep comments relevant to the article. Remarks containing abusive and obscene language, personal attacks of any kind or promotion will be removed and the user banned. Final decision will be at the discretion of the Taipei Times.