Bat `massacre' discovered in Meinung water channel
Thousands of bats were found burned to death recently in a secret water channel in Meinung Township (美濃), Kaohsiung County, the Bat Association of Taiwan (BAT) said.
BAT members said up to 5,000 bats were either burned or scared away by a fire set at the entrance of the cave.
Two years ago, members of the association discovered two water channels in Chishan (旗山) and Meinung townships. The former served as home for over 10,000 Japanese long-winged bats (褶翅蝠) while the latter housed more than 5,000 bats of the same species, along with Formosan lesser horseshoe bats (台灣小蹄鼻蝠) and Formosan whiskered bats (台灣鼠耳蝠).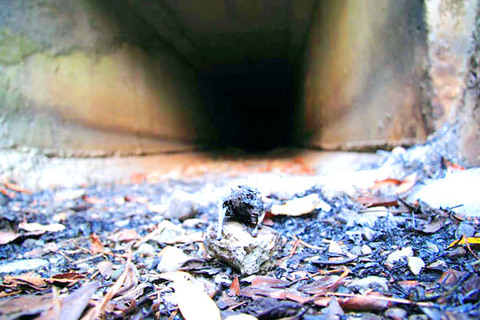 A dead bat lies in an empty water channel in Meinung Township, where thousands of bats were recently found burned to death outside a cave.
PHOTO COURTESY OF CHANG CHUN-CHIEH
BAT members were overjoyed by the discovery and kept the information secret while conducting various research projects at the site. They discovered that some bats often switch from one channel to the other.
A fire broke out at the entrance of the second water channel late last month, causing the death or dispersal of approximately 5,000 bats. Describing what it called a "massacre," the association said dead bats could be found all over the channel.
Chou Cheng-han (周政翰), a BAT researcher, said that most bodies belonged to Formosan lesser horseshoe bats, which fly at a relatively slow speed.
BAT Secretary General Hsu Chao-lung (徐昭龍) said that a lack of public interest in animal protection was one of the causes of the massacre.
After studying the two water channels for about one year, Chang Chun-chieh (張鈞傑), a student at National Cheng Kung University, said the ecological system in the region could become unbalanced as a result. For example, Chang said, the population of pests was likely to increase in the absence of predators.
The nation did not begin systematic research on bats until the 1990s.
Numerous bat habitats are known to have been damaged or destroyed.
Comments will be moderated. Keep comments relevant to the article. Remarks containing abusive and obscene language, personal attacks of any kind or promotion will be removed and the user banned. Final decision will be at the discretion of the Taipei Times.