Wooden postcards becoming a popular tourism attraction
In 2002, train enthusiast Ho Yuan-fu (何源富) invented a durable postcard made of wood that travelers could take around Taiwan and use to collect postmarks from various regions.
Little did Ho know that five years later the cards would become one of Taiwan's international symbols and a promotional tool for the tourism industry.
Ho's original wooden postcard -- engraved with the image of a train station along the Taiwan Railway Administration's Pingsi line -- has since expanded and now feature 60 different graphics.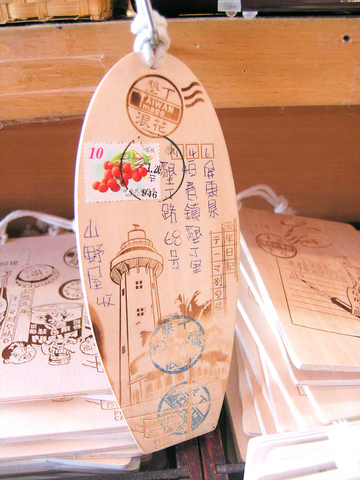 A wooden postcard in the shape of a surfboard is displayed at train enthusiast Ho Yuan-fu's shop in Pingsi Township, Taipei County, on March 15.
PHOTO: KUO FANG-CHI, TAIPEI TIMES
The cards have now become a tourist attraction in Pingsi Township (平溪), where travelers from Hong Kong, Japan, South Korea and Australia buy them to send to relatives back home as a memento.
Ho's enterprise began with a store selling railway memorabilia from around Taiwan next to the Cingtong (菁桐) station on the Pingsi line.
An avid traveler, he made a hobby of gathering collectibles while traveling around the country, including buying postcards to collect postmarks from various regions. Then one day he had an inspiration: Why not make a durable postcard that travelers can take with them and use to collect postmarks from places they travel to?
Wu's first creation featured an engraving of the Cingtong station where his shop was located. After sales of the cards began to take off, he began visiting and photographing other places to offer buyers more choices, including the historic streets in Taipei County's Jioufen Township (九份) and sunset in Tamsui.
Ho said he never thought that the postcards would ever become an international symbol. This has inspired him to continue traveling around the country, catching and printing scenes on his postcards and spreading these images of Taiwan around the world.
Postal officials were initially reluctant to let the wooden tablets enter circulation because of the demands their weight would put on mail carriers. But after a year of haggling with the Taiwan Post, Ho finally convinced the administration that the postcards would help raise Taiwan's international visibility and boost tourism.
The post office finally decided to allow his wooden postcards to be sent through the mail by charging extra. It costs NT$10 to send the wooden postcards by mail around Taiwan, NT$20 to Hong Kong, NT$25 to Southeast Asia and NT$35 to the US and Europe.
Comments will be moderated. Keep comments relevant to the article. Remarks containing abusive and obscene language, personal attacks of any kind or promotion will be removed and the user banned. Final decision will be at the discretion of the Taipei Times.