Health department to investigate Sensodyne toothpaste
The Department of Health (DOH) will investigate whether Sensodyne, a brand of toothpaste, was sold to the public without the ingredients and warning clearly listed on the packaging, a health official said yesterday.
"Certification from the DOH is necessary for drug-loaded toothpastes. If the toothpaste is sold without certification, the company may be fined up to NT$25 million [US$755,000]," said Liao Chi-jou (廖繼洲), director-general of the Bureau of Pharmaceutical Affairs.
Liao made the remarks in a press conference held by Chinese Nationalist Party (KMT) Legislator Chiang Lien-fu (江連福).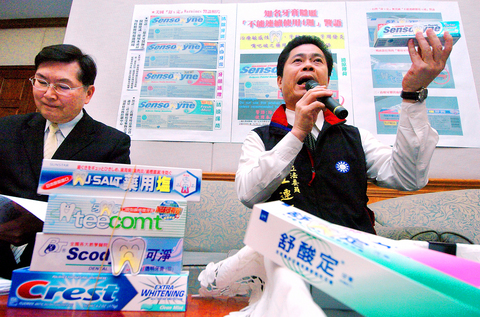 Chinese Nationalist Party Legislator (KMT) Chiang Lien-fu, right, and Director-General of the Bureau of Pharmaceutical Affairs Liao Chi-jou hold a press conference yesterday to warn that Sensodyne toothpaste and other brands do not clearly list ingredients and warnings on their packaging.
PHOTO: LIAO CHEN-HUEI, TAIPEI TIMES
Chiang accused Sensodyne of concealing some of the warnings on the packaging of its products sold in Taiwan and demanded the DOH examine its ingredients.
Showing packaging of Sensodyne toothpaste that a friend had bought in the US, Chiang said that Taiwanese consumers were not made aware of the potential dangers of using the product.
"It says that consumers should not use the product for longer than four months unless recommended by a dentist or a physician; to stop using the toothpaste and consult a dentist if the problem persists; and to get medical help or contact a Poison Control center right away if a larger amount than usually used for brushing is accidentally swallowed," Chiang read from the warning label.
"The only warning on packaging for products sold in Taiwan is that children under the age of 12 should consult a dentist or a physician before using the product," he said.
Liao said that Sensodyne toothpaste is not registered as a drug-loaded product and it was therefore not subject to the administration of DOH.
"Sensodyne was initially registered as drug-loaded toothpaste, but changed its registration to the non-drug category in 1999," Liao said.
Liao agreed to Chiang's request that the department test the toothpaste's ingredients and to demand that the company and its importer improve the packaging of their products to comply with the law.
Comments will be moderated. Keep comments relevant to the article. Remarks containing abusive and obscene language, personal attacks of any kind or promotion will be removed and the user banned. Final decision will be at the discretion of the Taipei Times.