Ma discounts pairing with Wang
REJECTING LIEN Local papers said that the KMT chairman had rejected Lien Chan's advice that he pair up with the legislative speaker in the next election
As speculation runs rampant about whether Chinese Nationalist Party (KMT) Chairman Ma Ying-jeou (馬英九) would pair up with Legislative Speaker Wang Jin-pyng (王金平) for next year's presidential election, Ma said yesterday that the issue was not a priority for his party.
While KMT insiders have long hinted at a possible "Ma-Wang" or "Wang-Ma" ticket next year, Wang hinted that he could mount his own presidential bid on Saturday when he did not dismiss a report in the Chinese-language United Daily News on Friday that said he had decided to run in the KMT primary.
The United Daily News and Chinese-language China Times also quoted anonymous sources yesterday who said that Ma discussed the issue of a joint ticket with former KMT chairman Lien Chan (連戰) during a meeting on Friday.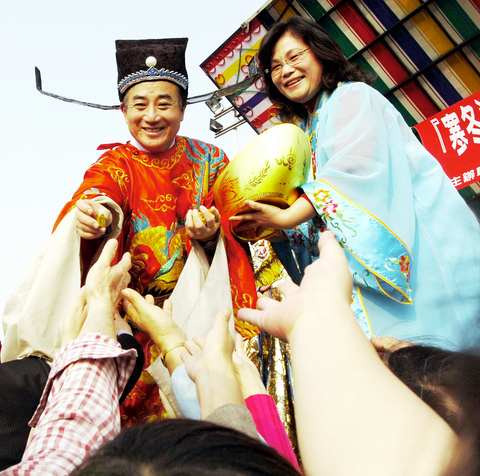 Legislative Speaker Wang Jin-pyng, left, is assisted by a performer from a traditional Taiwanese opera troupe while he hands out small gifts outside the Baoan Temple in Kaohsiung's Jinshihu scenic area yesterday.
PHOTO: HUANG CHIH-YUAN, TAIPEI TIMES
Ma rejected Lien's suggestion that he pair up with Wang in the election, the sources said.
Ma denied those reports yesterday, saying that the KMT's top concern was to bring the party together to win the election.
"I never make any declarations on the presidential election issue and the issue of pairing-up never came up during the meeting," Ma said while meeting with local party members at the Taipei International Convention Center.
Insisting that he had never made any comments on the issue, Ma called on the press not to make groundless allegations that raise unnecessary concern.
As Wang had dropped hints about his intention to run in the KMT presidential primary, some KMT members urged Ma to declare his candidacy as soon as possible.
Ma remained silent as party members cheered "President Ma!" during the meeting.
The KMT is scheduled to formally announce the details of its presidential primary on April 2 and announce its presidential candidate on May 25.
The party's candidate will be chosen by a public poll and a member vote.
The public poll will count for 70 percent of a candidate's score and the member vote 30 percent.
Meanwhile, asked about the possibility of pairing with Ma in the presidential election, Wang said: "I haven't thought about this."
"It would take a long time to consider," he said.
Wang made the remarks when approached by the press for comment on the China Times report.
The anonymous source in Saturday's China Times report said that Wang wants to break the deadlock caused by the confrontation between the pan-blue and pan-green camps, which could mean that he wants to form a third party.
However, Wang dismissed the rumor, saying: "I never said that. Only what I myself said is reliable."
Meanwhile, a group of pan-blue lawmakers called for unity yesterday between Ma and Wang, saying that it is essential for the pan-blue camp to win the next presidential election.
"They both have to take unity seriously. The key point is their intentions, but we haven't seen what their intentions are for the moment," KMT Legislator Hsu Shu-po (許舒博) said.
Lee Hung-chun (李鴻鈞), spokes-man of the People First Party (PFP), and Legislator Liu Wen-hsiung (劉文雄) called a press conference yesterday that urged the pan-blue leaders -- Lien, PFP Chairman James Soong (宋楚瑜), Ma and Wang -- to consider holding a summit on the matter.
Comments will be moderated. Keep comments relevant to the article. Remarks containing abusive and obscene language, personal attacks of any kind or promotion will be removed and the user banned. Final decision will be at the discretion of the Taipei Times.