Miaoli police's `good luck' beagle returned to owner
The owner of a beagle that strayed from home and got lost found his beloved pet after reading a story in a newspaper about a runaway dog that had brought luck to the people who found it.
On Saturday, the Liberty Times, (the Taipei Times' Chinese-language sister newspaper), reported that Miaoli police had found a stray beagle and taken it into custody.
The police officers said the dog had brought them luck after they won money, computers and television sets at the police's year-end party on the same day they had found it.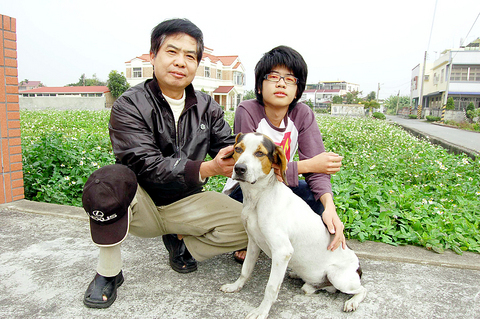 Hsu Yu-tsai and his son Hsu Yu-wei with their beagle Snoopy yesterday.
PHOTO: FU CHAO-PIAO, TAIPEI TIMES
Hsu Yu-tsai (徐有才), the dog's owner, had searched for the dog for several days when his son read the story. His wife and son went immediately to the police station to bring the dog home.
Hsu, who runs a small eatery on Chungcheng Road in Miaoli, said that a friend of his son's gave them the beagle, whose name was Snoopy, when it was still a little puppy. The family had had Snoopy for more than three years.
Over time, the family had become very attached to Snoopy and Hsu always brought the dog a late night snack after work.
Hsu said Snoopy got lost a week ago when the dog followed Hsu and and his brother part of the way to Hsu's shop. They thought Snoopy would find his way back home on his own.
Instead, Snoopy got lost and the family went searching for the dog, never suspecting it had found its way to the local police station.
On Saturday evening when Hsu's son was reading the Liberty Times, he saw the story about a dog found by the police.
To the joy of the family and their shop costumers, who shared their distress over the lost dog, Hsu's wife Su Mei-yun (蘇美雲) and their son immediately drove to the police station.
As soon as the dog, perched on the stairs outside the police station, heard his name being called, he ran toward the car, joyfully barking and jumping.
Extending his gratitude to the police and the newspaper, Hsu said he was glad he read the paper, because otherwise the family may not have found its dog.
Comments will be moderated. Keep comments relevant to the article. Remarks containing abusive and obscene language, personal attacks of any kind or promotion will be removed and the user banned. Final decision will be at the discretion of the Taipei Times.