Prostitution ads on the rise: KMT
A top National Police Agency (NPA) official was "lying through his teeth" by saying that newspaper advertisements for prostitutes were decreasing, Chinese Nationalist Party (KMT) Legislator Ting Shou-chung (丁守中) said yesterday.
"We can't get rid of such advertisements right away, but the ads have been gradually reduced through a cooperative effort among agencies," Fang Chien-fei (枋劍飛), deputy director of the agency's administration department, had said at a press conference on prostitution-related newspaper ads at the legislature yesterday.
Fang didn't say what specific efforts his and other agencies had taken.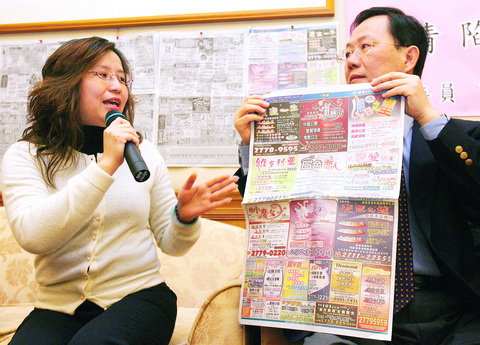 Chinese Nationalist Party (KMT) Legislator Ting Shou-chung holds up a newspaper as End Child Prostitution Association Secretary-General Lee Li-fen speaks at a press conference yesterday, calling on the authorities to crack down on newspaper advertisements for prostitution.
PHOTO: WANG YI-SUNG, TAIPEI TIMES
Ting, who hosted the conference, criticized the agency and the Government Information Office (GIO) over what he said was a steady proliferation of ads recruiting girls to work as prostitutes, or men to pay for sexual services, in the classified sections of local newspapers.
"Now that schools nationwide are out on winter vacation, students are looking for part-time jobs en masse," Ting said, adding that the large number of female students seeking work had led to an explosion in lurid newspaper advertisements.
"I'm getting complaints left and right [from girls in my legislative zone] who check out these job ads and find out that they're not for legit jobs at all -- they're jobs providing sexual services," Ting added, holding up various newspaper classifieds pages.
Garden of Hope Foundation chief executive Chi Hui-jung (紀惠容) said that girls who responded to advertisements recruiting "piano bar" and KTV escorts could expect to be frequently fondled by businessmen, and typically had to drink copious amounts of alcohol on the job.
"It's not as glamorous as these girls think, and it's not as innocent, either. Tremendous demands are made on school-age girls to please their customers," Chi said.
Child Welfare League Foundation Deputy Director Wang Mei-en (王美恩), meanwhile, said that homeless girls were particularly attracted to such jobs because the employers didn't require identification cards or paperwork from them.
Ads for escort job openings were often a "gate" leading to a life of prostitution for such girls, Wang added.
NPA and GIO officials yesterday warned against responding to ads that employ sensual language, or whose contact information is vague.
Fang and GIO representative Chen Bi-chung (陳碧鐘) said their agencies "regularly held meetings" on the matter, and were currently formulating a plan to crack down on such ads.
Comments will be moderated. Keep comments relevant to the article. Remarks containing abusive and obscene language, personal attacks of any kind or promotion will be removed and the user banned. Final decision will be at the discretion of the Taipei Times.