Legislator says accounting firms must pay
LESSONS FROM ENRON DPP Legislator Tien Chiu-chin said that the Financial Supervisory Commission should learn from the US response to financial scandals
Democratic Progressive Party Legislator Tien Chiu-chin (田秋堇) yesterday urged the Financial Supervisory Commission (FSC) to revoke the licenses of two accounting firms which endorsed the finances of the Rebar Asia Pacific Group (力霸亞太企業集團) and The Chinese Bank (中華銀行).
The two accounting companies are the Taiwan branch of Ernst & Young (致遠會計事務所) and RSM International (廣信益群會計事務所).
The government must review and restructure the financial system to restore the public's confidence, Tien told a press conference.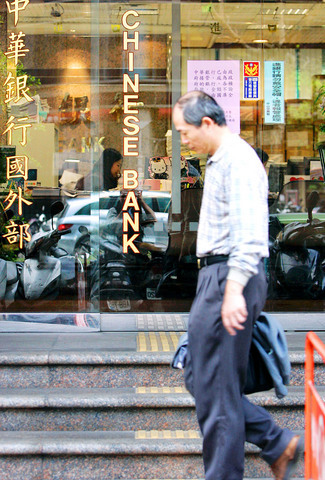 A pedestrian walks past a branch of The Chinese Bank, a subsidiary of the financially troubled Rebar Asia Pacific Group, on Tuesday.
PHOTO: WALLY SANTANA, AP
The accounting companies involved must be held responsible for failing in their responsibilities, she added.
Tien said that to comply with the Securities and Exchange Law (證券交易法) the FSC should appoint separate accounting firms to conduct thorough investigations into the financial status of the Rebar Group companies endorsed by Ernst & Young and RSM International over the past three years.
She urged the FSC to propose bills modeled on the US' Sarbanes-Oxley Act, also known as the Public Company Accounting Reform and Investor Protection Act of 2002 -- which was proposed after a series of scandals involving a number of US firms including Enron Corp, which applied for bankruptcy in 2001.
At the end of 2001, it was revealed that Enron's financial problems had been intentionally masked by accounting fraud. Several top Enron executive officers walked away from the company's collapse with about US$1 billion.
The bill, proposed by US Senator Paul Sarbanes and Representative Michael Oxley, allowed the US government to establish the Public Company Accounting Oversight Board to supervise listed companies.
The bill also ensures that companies disclose their financial reports and sets restrictions on the behavior of top company executive officers.
Chang Shu-hui (張淑惠), a section chief of the Securities and Futures Bureau under the FSC, said the bureau had resolved on Tuesday to revoke the qualifications of two accountants who endorsed the books of Rebar Group firms.
Comments will be moderated. Keep comments relevant to the article. Remarks containing abusive and obscene language, personal attacks of any kind or promotion will be removed and the user banned. Final decision will be at the discretion of the Taipei Times.