Caregiver gives half of her earnings
A Vietnamese caregiver working in Taiwan donated half of her earnings to charity before returning.
Forty-three-year-old "Ah Lu" has three children to raise back home, but says that all she needs is to bring back enough for her family to live on.
She said she and Taiwan were linked by fate and wanted to help people in need. Her NT$107,198 (US$3,270) donation will help buy lunch for students and elderly people who cannot afford it.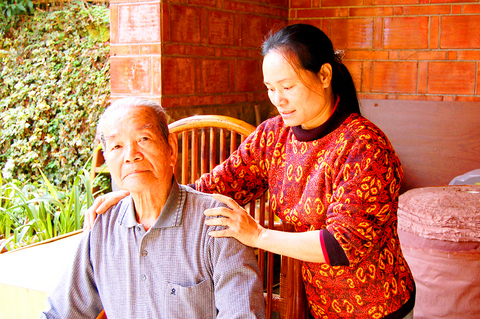 ''Ah Lu,'' a Vietnamese who donated half of her earnings to charity, stands next to Chan Chao-ching, the man she has been caring for, in this file photo.
PHOTO: TUNG CHEN-KUO, TAIPEI TIMES
The amount is roughly the equivalent of four years' salary for a low-level laborer in Vietnam and is enough to build a simple house or buy ten scooters.
Her Taiwanese employers told her to consider the needs of her family, but Ah Lu insisted on donating the money.
When asked why she didn't want to take the money back to Vietnam and donate it there, she said fate had made her come to Taiwan for work and that everyone here treated her very well. After seeing scenes of poverty in Taiwan on TV, she decided to invest the money here instead of in Vietnam.
"Being able to donate money to help people is a blessing," she said, adding that she was confident her family would support her decision.
Half of her earnings would be enough to handle most family expenses, her childrens' education, she said, adding that her husband would continue to work after her return.
Her family was completely dependent on the money she earned in Taiwan, she said. She didn't spend anything on fun or travel, she said. Only on phone calls to her family back home.
Comments will be moderated. Keep comments relevant to the article. Remarks containing abusive and obscene language, personal attacks of any kind or promotion will be removed and the user banned. Final decision will be at the discretion of the Taipei Times.