Wu released from hospital
First lady Wu Shu-jen (吳淑珍) was released from National Taiwan University (NTU) hospital yesterday morning, 16 days after she almost collapsed during her first trial on corruption and forgery charges.
"After a discussion between Wu's family and her medical team, it was decided that it would be best for her to continue her recovery at home," hospital spokesman Lin He-hsiung (林鶴雄) said.
"Her blood pressure, pulse and body temperatures have stabilized, but she needs long-term care," he said.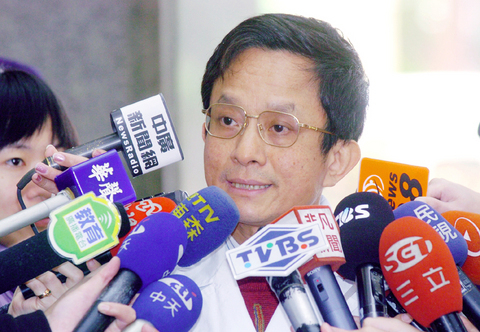 National Taiwan University Hospital spokesman Lin He-hsiung yesterday speaks to the media about the medical condition of first lady Wu Shu-jen, who was released from the hospital yesterday morning, 16 days after she almost collapsed during the first day of her trial on corruption and forgery charges.
PHOTO: LO PEI-DER, TAIPEI TIMES
According to Lin, Wu's spinal injuries have resulted in the malfunction of her sciatic nerve.
Her blood pressure is prone to drop when she is exposed to sudden drops in temperature, when she's been sitting for a long time or when she has to go to the bathroom.
As for whether or not Wu will be able to attend the continuation of her corruption trial, Lin said it was up to the medical team to assess her condition.
Wu was paralyzed from the waist down and confined to a wheelchair after she was hit by a van in 1984.
Wu pleaded not guilty to charges she illegally claimed NT$ 14.8 million (US$454,000) in personal expenses from the president's "state affairs fund." She was rushed to hospital after almost fainting during a court recess on Dec. 15.
The opposition has accused Wu of faking the severity of her illness to prolong the trial and allow her husband to serve out his term.
On doctor's advice, she did not attend the second and third sessions of the trial on Dec. 22 and Friday.
Comments will be moderated. Keep comments relevant to the article. Remarks containing abusive and obscene language, personal attacks of any kind or promotion will be removed and the user banned. Final decision will be at the discretion of the Taipei Times.