Su stays tight-lipped over his presidential prospects
GRATEFUL The premier played down speculation that his relationship with the president was strained and thanked him for his trust and support
Premier Su Tseng-chang (蘇貞昌), considered a likely candidate for the 2008 presidential election under the Democratic Progressive Party (DPP) banner, yesterday kept a low profile when asked for comments on the party's nomination timetable and mechanism.
The DPP is expected to hold its presidential primary next May.
Chairman Yu Shyi-kun recently said the timetable still needed to be discussed by the party's Central Executive Committee.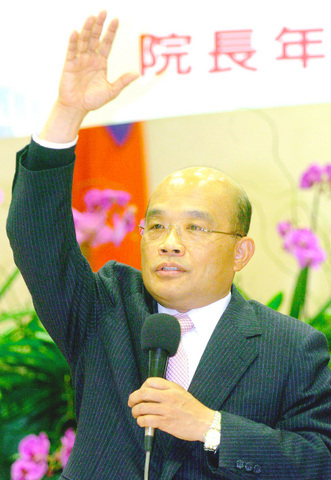 Premier Su Tseng-chang yesterday gestures while outlining his objectives for next year during the Cabinet's year-end news conference held in Taipei.
PHOTO: CHEN TSE-MING, TAIPEI TIMES
"I have said more than once that I am a man who wants to dedicate myself to the people and to the DPP. I will respect the DPP mechanism regarding the issue of the presidential candidacy," Su said. "It is only the end of 2006 and still too early to talk about the 2008 presidential election, isn't it?"
Su made the remarks during the Cabinet's year-end news press conference when asked to comment on former premier Frank Hsieh (謝長廷), who appeared to have gained support following his Taipei mayoral election bid earlier this month.
Former presidential adviser Koo Kwang-ming (辜寬敏) recently publicly praised Hsieh and encouraged him to run for the 2008 presidency.
Su yesterday revealed that Koo had affirmed him as well.
"During our last conversation, he told me `to be prepared to be a national leader,'" Su said. "In return, I asked him `How many people have you said that to?'"
Su also denied there were any disagreements between himself and President Chen Shui-bian (陳水扁), saying they communicated well.
Responding to questions from reporters, Su said he was very thankful to the president for appointing him to his position and offering him trust and support over the past year.
He stressed that any policies adopted by the Cabinet would take into account the overall interests of the country and that the Cabinet fully complied with the president's instructions on issues such as national defense, foreign affairs and cross-strait relations.
Comments will be moderated. Keep comments relevant to the article. Remarks containing abusive and obscene language, personal attacks of any kind or promotion will be removed and the user banned. Final decision will be at the discretion of the Taipei Times.