Commissioner requests more funds to build up Matsu
Lienchiang County Commissioner Chen Hsueh-sheng (陳雪生) yesterday asked Premier Su Tseng-chang (蘇貞昌) that the budget for Matsu be raised to support more construction projects in the country's outlying island.
Chen, a member of the Chinese Nationalist Party (KMT), and his fellow Matsu politicians made the request during Su's brief visit yesterday morning.
Su originally planned to visit on Nov. 5. However, it was postponed after news of the indictment of first lady Wu Shu-jen (吳淑珍) on Nov. 4.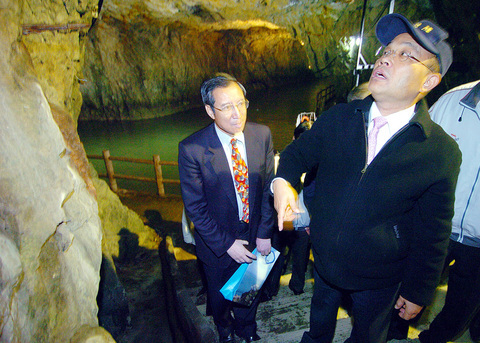 Premier Su Tseng-chang visits a cave during a trip to Matsu yesterday. Su suggested that local authorities use the cave to develop tourism.
PHOTO: CHEN TSE-MING, TAIPEI TIMES
A trip scheduled for Dec. 4 was again postponed as the premier had to attend to the aftermath of a serious bus accident which took place in Meiling, Tainan, on Dec. 3.
Along with his security guards and staff members, Su boarded the Fokker-50 administrative chartered plane, while the media took the Air Force's C-130 Hercules.
During the briefing, Chen told Su that a number of public constructions were required but that the Lienchiang County Government was in severe financial straits.
"For instance," Chen said, "our fire station needs to be expanded and equipment renewed. [The county's] only hospital needs more manpower, equipment and a new building to take care of more patients."
Chen also expressed the hope that the Cabinet would further ease restrictions on Chinese visitors, as this could boost economic activity on the island.
"I believe the premier must understand my feelings since he has been a Taipei County commissioner as well," he said.
In response, Su told Chen: "I understand what this county government is going through."
"I want to assure Commissioner Chen that what he requested has already been approved and many of the items are in the process of being done," Su said.
Comments will be moderated. Keep comments relevant to the article. Remarks containing abusive and obscene language, personal attacks of any kind or promotion will be removed and the user banned. Final decision will be at the discretion of the Taipei Times.