New HPV vaccine hits the shelves
A new vaccine aimed at preventing cervical cancer and other diseases caused by the human papillomavirus (HPV) was launched yesterday and is now available in all medical institutions.
Individuals who want to be vaccinated must pay for it out of their own pocket, as the National Health Insurance does not cover the vaccine.
Lai Hung-cheng (賴鴻政), a doctor of obstetrics and gynecology at the Tri-Service General Hospital, said yesterday that the vaccine would not cure patients with cervical cancer nor replace the pap smear.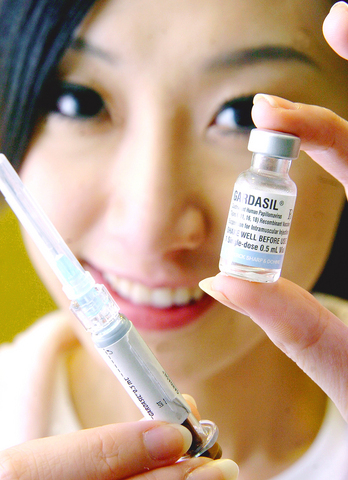 A medical worker yesterday displays Gardasil, a new vaccine aimed at preventing cervical cancer.
PHOTO: CHANG CHIA-MING, TAIPEI TIMES
Rather, it is used to lower the risk for women of developing cervical cancer.
"In general, individuals who started having sexual intercourse at an early age and frequently are encouraged to get the vaccine as soon as possible," Lai said.
The vaccine can lower the chance of developing cervical cancer by 70 percent, he added.
The vaccine, named Gardasil, is a quadrivalent HPV recombinant vaccine.
Gardasil was developed by Merck, Sharp and Dohme to treat diseases induced by four different types of HPVs. These diseases include cervical cancer and genital warts.
The Department of Health has only approved the use of the vaccine for women between the ages of nine and 26.
Individuals who do not belong to this age category are advised to consult a doctor before receiving the vaccine, as it will be considered an "off-label use of vaccine."
The vaccine must be administered three times and the entire process must be completed within a period of three months.
No screening for HPV is necessary before the injection.
Comments will be moderated. Keep comments relevant to the article. Remarks containing abusive and obscene language, personal attacks of any kind or promotion will be removed and the user banned. Final decision will be at the discretion of the Taipei Times.