Chen Chu thanks president and Annette Lu
Kaohsiung Mayor-elect Chen Chu (陳菊) yesterday visited President Chen Shui-bian (陳水扁) and her ex-cellmate Vice President Annette Lu (呂秀蓮) to express her appreciation for their help during her campaign.
Dubbed as two of the "four female rascals" by the then Chinese Nationalist Party (KMT) administration, Lu and Chen Chu were arrested on Dec. 13, 1979 for their involvement in the "Kaohsiung Incident."
This occurred when authorities broke up an anti-government parade organized by Formosa magazine. Lu was the magazine's vice president in the 1970s.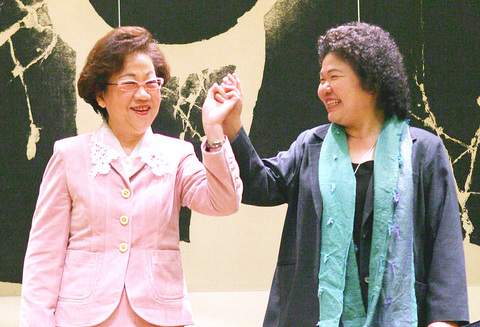 Vice President Annette Lu, left, yesterday joins hands with Democratic Progressive Party Kaohsiung Mayor-elect Chen Chu during an event at the Presidential Office where Chen conveyed her thanks to the president and the vice president for supporting her during her successful election campaign.
PHOTO: CNA
Lu yesterday recollected the day of the arrest, which took place at about 5am exactly 27 years ago.
She said the police knocked on the door of the magazine office, where she had spent the previous night with Chen Chu.
Chen Chu jumped out of a second-floor window in a bid to escape but was immediately arrested. Former Democratic Progressive Party (DPP) chairman Lin I-hsiung (林義雄) was arrested in his room on the first floor.
The three were each sentenced to a 12-year term by the KMT regime on charges of sedition.
Chen Chu won last Saturday's municipal elections and became the nation's first female mayor of the special municipality of Kaohsiung.
Describing Chen Chu's victory as "God's will," Lu said she well-deserved the position and should have won it or held a more important position long time ago.
President Chen, who received Chen Chu before Lu, told Chen Chu to do a good job in order to pay back the support of the electorate.
President Chen, who served as Taipei mayor between 1994 and 1998, shared his experience of governing the city with her during their closed-door meeting, Chen Chu said.
"The best way to pay back my supporters is to materialize all the election platforms," she added. "I will do everything within my power to make the city a better place to live in and to improve the lives of Kaohsiung residents."
When asked whether President Chen had asked her to look for a house for him, she said no but welcomed everybody to go to Kaohsiung.
Comments will be moderated. Keep comments relevant to the article. Remarks containing abusive and obscene language, personal attacks of any kind or promotion will be removed and the user banned. Final decision will be at the discretion of the Taipei Times.