Officials talk bus safety
INSPECTIONS The Ministry of Education said it would check all school vehicles, while lawmakers and bureaucrats discussed other safety precautions
Minister of Education Tu Cheng-sheng (杜正勝) announced yesterday that his ministry was conducting a nationwide inspection of school buses and other school vehicles
The announcement comes in the wake of a deadly bus accident in Tainan County on Sunday. The horrific crash took place when a bus carrying a school group from Kaohsiung tumbled into a ravine. In addition to the deaths, 24 were injured. Investigators have yet to determine the cause of the accident.
"All of us at the ministry [of education] were shaken up by the tragedy," Tu said in the legislature's Education and Culture committee.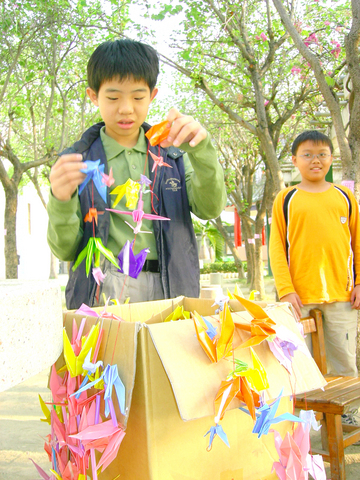 A student from Tingchin Elementary School in Kaohsiung City arranges origami birds at a memorial ceremony held yesterday for three pupils who were killed in Sunday's tour bus accident.
PHOTO: CNA
The ministry mobilized psychology professors soon after the incident to offer counseling services to survivors and some of the victims' classmates, he added.
"We also created a hyperlink on our Web site immediately after the accident, that points users to a traffic advisory on the Ministry of Transportation and Communications' Web site identifying dangerous roads," Tu added.
The bus inspection, meanwhile, will most likely be concluded in two weeks, Tu said.
In related news, opposition parties criticized the Ministry of Transportation and Communications for proposing to buy used tour buses in an effort to get them off the roads.
They also demanded that Minister Tsai Duei (蔡堆) step down should the proposal be approved.
"You idiot," Chinese Nationalist Party (KMT) Legislator Chi Kuo-tung (紀國棟) said.
"Buyback is not the point. The problem lies in the local vehicle registration departments that maintain close ties with local bus service operators," Chi said.
KMT Legislator Wang Yu-ting (王昱婷) added that some operators would likely strip equipment from buses in order to pass inspections, and then reinstall the equipment.
She suggested that the ministry increase the number of inspectors in local vehicle registration departments.
Vice Minister Oliver Yu (游芳來) denied that the ministry plans to buy back used tour buses in order to encourage compliance with regulations.
The idea was mooted in the legislature's Transportation Committee yesterday, when legislators questioned Yu over Directorate General of Highways head James Chen's (陳晉源) proposal.
Yin Cheng-peng (尹承蓬), deputy director-general of the Department of Railways and Highways, also said that the government would never compensate tour bus operators for agreeing to replace old buses.
Yu said his department had finalized a number of issues for discussion tomorrow.
For example, it suggested that the ministry forbid companies from using tour buses that have been in operation for more than 12 years. Yu's department also suggested that buses that have been in operation for more than 10 years be inspected more frequently.
Other plans include limiting the height of large vehicles to less than 3.5m and a complete ban on the use of retreaded tires.
Comments will be moderated. Keep comments relevant to the article. Remarks containing abusive and obscene language, personal attacks of any kind or promotion will be removed and the user banned. Final decision will be at the discretion of the Taipei Times.