Mayoral hopefuls turn to lawsuits, tearful protests
Taipei mayoral hopefuls without support from the nation's major political parties are relying on less conventional means of support: lawsuits and tearful protests.
Independent Taipei mayoral candidate Clara Chou (周玉蔻) yesterday protested in front of the campaign headquarters of Democratic Progressive Party (DPP) candidate Frank Hsieh (謝長廷) and accused him of employing a campaign strategy to have voters abandon her and support him.
Chou, who was expelled from the Taiwan Solidarity Union (TSU) early this month, made a scene at Hsieh's headquarters while the police tried to carry her away because she had not applied for permission to stage the protest beforehand.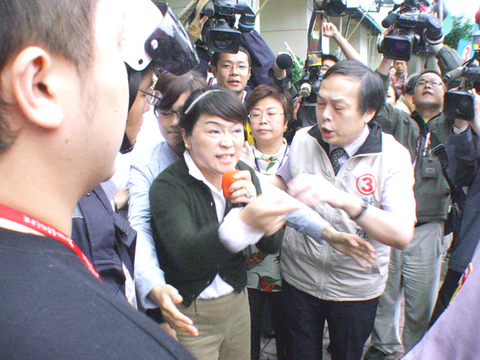 Former Taiwan Solidarity Union Taipei mayoral candidate Clara Chou yesterday scuffles with police and reporters while protesting outside of Democratic Progressive Party candidate Frank Hsieh's headquarters to accuse him of trying to steal her voters.
PHOTO: LIN SU-HUI, TAIPEI TIMES
Hsieh did not show up at the scene, but volunteers at Hsieh's campaign headquarters chanted "shameful" and "staging a campaign show" next to Chou while she screamed, "The police helps the ruling party bully women" during struggles with the police.
The conflict lasted for about half an hour, after which Chou left.
Hsieh's campaign chief Hsiao Yu-chen (蕭裕珍) accused Chou of abusing her femininity and losing her reason in a follow-up press conference.
Hsieh told the press later yesterday that he could tolerate Chou's behavior, although he understood every candidate was under great pressure as the election day draws near.
Until Chou lost her TSU membership, she had been considered a pan-green mayoral candidate in addition to Hsieh.
She announced yesterday evening that she would press charges against Hsieh for "being violently treated by his headquarters."
Meanwhile, independent Taipei mayoral candidate Li Ao (李敖) yesterday filed a lawsuit against six local media organizations for not inviting him to participate in a televised election debate.
A total of 17 people are on the defendants' list, including the host of the debate, top executives of the Public Television Service (PTS) and Chinese-language newspapers the Liberty Times, China Times, United Daily News and Apple Daily, as well as the state-funded Central News Agency.
The debate was held on Sunday, with Chinese Nationalist Party (KMT) candidate Hau Lung-bin (郝龍斌), the DPP's Hsieh and independent candidate James Soong (宋楚瑜) being invited to participate.
Li accused the organizers of violating the Public Officials Election and Recall Law (公職人員選舉罷免法) by inviting only the three candidates whom they claimed had performed best in opinion polls to take part in the debate.
He said that PTS, as a TV station supported by government funding, was prohibited from being biased in favor of any particular candidate.
Li said that the results of opinion polls cited by the organizers were inaccurate and that he was named as the candidate with the third-highest support rating in an Internet survey conducted on Nov. 20.
He said that the debate organizers' move would influence the outcome of the election, because it would "mislead" the electorate into believing that he had no chance of being elected.
Six candidates are vying for the post of Taipei mayor: Hau; Hsieh; Soong; Li; Chou, who is better known as a TV talkshow host; and independent Ko Szu-hai (柯賜海), commonly called "Taipei's Dog Man" for his colorful demonstrations, often conducted with a menagerie in tow.
Comments will be moderated. Keep comments relevant to the article. Remarks containing abusive and obscene language, personal attacks of any kind or promotion will be removed and the user banned. Final decision will be at the discretion of the Taipei Times.