Indigenous fish species seemingly extinct in wild
DISAPPEARING ACT They used to be common in Keelung's waterways but now the only place you'll find a Taiwan lesser-bream is in a research institute
One of the nation's indigenous fish species, the Taiwan lesser-bream, appears to have disappeared from its last remaining natural habitat.
Lin Chih-mo (林智謀) of the Society of Wilderness (荒野保護協會), said that last year, the fish could be seen sporadically in Emerald Lake (翠湖) in Sijhih (汐止), but this year there has been no sign of them.
The Taiwan lesser-bream is a freshwater species unique to Taiwan.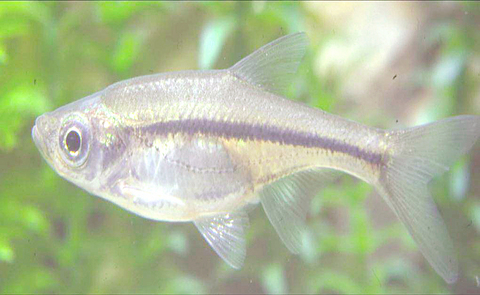 The Taiwan lesser-bream, which may have become extinct in the wild, is pictured in this photograph.
PHOTO COURTESY OF LAI HUNG-CHIH
Twenty years ago, they were common in the waterways of Keelung, but in recent years, Emerald Lake was their last surviving habitat.
However, members of a nearby temple introduced larger species into the lake which ate the lesser-bream and destroyed its habitat.
Over the last few years, the society had tried to transplant the fish into other lakes in a last ditch effort to save the species.
However, this approach was criticized because it introduced an alien species that could interfere with the lakes' natural ecology.
Lai Hung-chih (賴弘智) of National Chiayi University's Department and Graduate Institute of Aquatic Biosciences has successfully artificially reproduced more than 100 of the fish and distributed them among various other research institutes for safe keeping, but says that they shouldn't hastily be returned to the wild before their habitat is restored.
Comments will be moderated. Keep comments relevant to the article. Remarks containing abusive and obscene language, personal attacks of any kind or promotion will be removed and the user banned. Final decision will be at the discretion of the Taipei Times.