`Deep greens' seek unity on arms package
While urging the legislature to pass the arms procurement budget in a timely fashion, pro-Taiwan independence advocates yesterday also gave a note of appreciation to the pan-blues, affirming their efforts to lower the total amount of the arms purchase.
"I must give the pan-blue camp some credit instead of criticism," said Ng Chiau-tong (黃昭堂), Taiwan Hand-in-Hand Alliance leader.
Ng made the remark at a press conference held to urge the legislature to approve the long-pending NT$6.3 billion (US$191 million) arms procurement proposal for 12 P-3C surveillance aircraft, eight diesel submarines and 384 Patriot Advanced Capability (PAC) 3 missile batteries.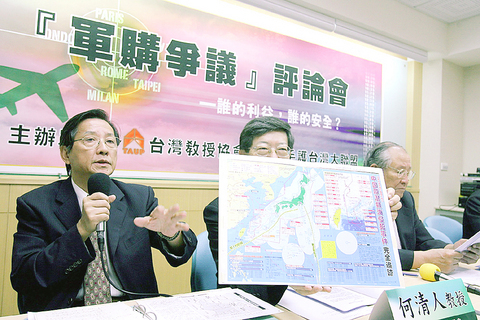 National Taiwan University Professor Cheng Chin-jen, left, speaks at a seminar held to discuss conflict over the arms procurement bill in Taipei yesterday. Cheng is joined by seminar moderator Ho Ching-jen, center, and World United Formosans for Independence Chairman Ng Chiau-tong.
PHOTO: WANG YI-SUNG, TAIPEI TIMES
Ng went on to say that when it comes to national defense, everybody should temporarily abandon his or her political orientation because "national defense is everybody's responsibility."
The only priority is to get things done, he said, adding that to do that, everybody should practice mutual respect.
"It is like courting a girl. You need to do something if you want her to be your girl. You cannot just continue to complain about her hair, her dress and such, or else she will just walk away and you will be left alone," Ng said.
Cheng Ching-jen (鄭欽仁), a professor of history at National Taiwan University, said that pan-blue lawmakers should do the right thing if they really believe the prices are not reasonable.
"What they do now is simply ignore it. But, they should investigate why it is so expensive or simply work out a solution through discussions instead of cursing for nothing and talking nonsense on TV every day," Cheng said.
"They are making no progress and this issue is not going any further, which concerns us a lot," he said.
Comments will be moderated. Keep comments relevant to the article. Remarks containing abusive and obscene language, personal attacks of any kind or promotion will be removed and the user banned. Final decision will be at the discretion of the Taipei Times.