MOE gives first exam for teaching Chinese classes
CERTIFIED RESULTS The test was designed to give a concrete measure of an examinee's speaking ability and literary, linguistic, pedogogical and cultural knowledge
The Ministry of Education's first-ever exam for teaching Chinese as a second or foreign language concluded yesterday.
The two-day exam was designed to certify the ability of Chinese teachers in Taiwan and to enhance their reputation around the world.
A total of 1,925 students took the examination at National Taiwan University over the weekend, including more than 10 who flew in from overseas.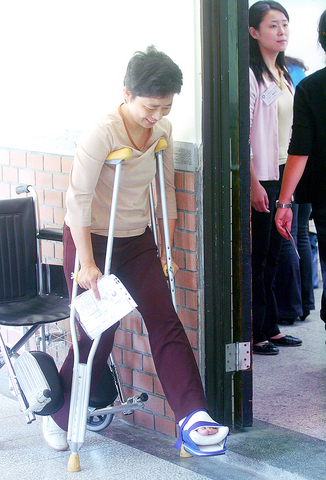 A woman who had just broken her leg in a car accident battles pain to participate in the Ministry of Education's first-ever exam for teaching Chinese as a second or foreign language yesterday. The exam was held at National Taiwan University.
PHOTO: CHEN TSE-MING, TAIPEI TIMES
Women test takers outnumbered men by a ratio of six to one at the exam.
The exam, which was only open to college graduates, was divided into segments focusing on five subjects: oral Chinese, Chinese literature, Chinese linguistics, Chinese-language pedagogy and Chinese society and culture.
Test takers were required to do the written portion in traditional Chinese characters.
Those who passed the test will receive certification that will remain valid for three years.
According to Chang Chin-sheng (張欽盛), director of the education ministry's Bureau of International Cultural and Educational Relations, the oral examination focused on good pronunciation.
"Regardless of scores in other areas, it's not good enough if a teacher's spoken Mandarin is not up to standard," he said.
Certification is just an official acknowledgment of an examinee's ability and carries no guarantee of employment, he said.
Students from Pingtung and Kaohsiung complained about having to come to Taipei to take the examination.
One test-taker reported that she spent more than NT$5,000 for transportation, staying in a hotel and for registration fees, in addition to enduring a five-hour train journey.
Other test-takers complained about noise at the test center and about not having sufficient time to complete the tests.
An examinee surnamed Chen said she has been teaching Chinese part time to children at a language center in the US.
Chen, who is studying at the University of Texas in Austin, said that she hoped to obtain a certificate for teaching Chinese as a second or foreign language so that she can become a full-time Chinese teacher in the US in the future.
Comments will be moderated. Keep comments relevant to the article. Remarks containing abusive and obscene language, personal attacks of any kind or promotion will be removed and the user banned. Final decision will be at the discretion of the Taipei Times.