AIT Director Stephen Young reveals his true colors
MARATHON MAN The uproar over Young's comments about the arms budgets shows no sign of dying down, though cooler heads note that the envoy was just doing his job
Calling himself a "new Taiwanese," American Institute in Taiwan (AIT) Director Stephen Young refused to be labeled green, blue or red during the recent political brouhaha, saying that his true colors were red, white and blue -- the colors of the US flag.
"I am none of those colors [green, blue or red]. You all [people of Taiwan] don't make that easy but that's what I try and do every day," Young said last Thursday at a press conference in Taipei.
During the press conference, which Young held to convey the US government's perspective on the arms budgets before the Legislative Yuan, he said that the US expected Taiwan to pass the arms procurement bills this fall.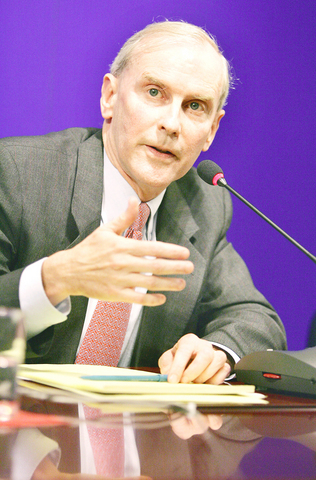 American Institute in Taiwan Director Stephen Young gestures during a press conference last Thursday in Taipei.
PHOTO: WALLY SANTANA, AP
Young's remarks created a fierce backlash in local political circles.
Lawmakers in the pan-blue camp accusing him of "interfering" in Taiwan's internal affairs.
They encouraged their supporters to "paralyze" AIT's offices with telephone calls. Other anti-arms sales groups held protests in front of the AIT's Taipei office on Xinyi Road.
Others, such as Chiang Ming-chin (江岷欽), a professor of public administration at Taipei University, labeled Young a "typical American patriot," saying that he had produced the opposite effect to that desired by the US.
Still others commented that Young's attitude is what Taiwanese politics lacks -- the ability to put national interests above personal or political interests.
"I think what Young expressed last Thursday was US policy rather than expressing a personal like or dislike for either the pan-green or pan-blue camps," said Hsu Yung-ming (徐永明), a research fellow in political science at Academia Sinica.
"Young is a professional diplomat and he pretty much voiced the US government's long-term stance on the arms budgets," Hsu said.
He said that although the pan-blue camp reacted strongly to Young's remarks, it may not have noticed one crucial message that Washington wanted to reveal through Young -- that the US is making an evaluation of potential new leaders in Taiwan.
"I believe that the US is evaluating who will be the future leader of Taiwan and who of them is willing to cooperate with the US to resist China," Hsu said.
Yu Pen-li (尤本立), an assistant professor at the Graduate Institute of American Studies at Tamkang University, said pan-blue lawmakers overreacted to Young's remarks, pointing out that the envoy was simply playing his role as the US government's messenger.
"I think Young's statement had nothing to with his inclination for certain political parties in Taiwan. To the US, the arms budgets should be an issue that transcends partisan politics," Yu said.
Although pan-blue lawmakers said that Young had hurt the feelings of the people of Taiwan, the diplomat may be the only AIT director willing to be so involved in Taiwanese life and activities.
Young, 55, assumed his position as AIT director on March 18. However, this is not his first time in Taiwan but his fifth.
Young, who served as US ambassador to Kyrgyzstan from 2003 to last year, had been deputy AIT director from 1998 to 2001.
But Young first came to Taiwan at the age of 12 with his father, who served as a military adviser to the Republic of China army in Kaohsiung from 1963 to 1965.
Young climbed Yushan (玉山), Taiwan's highest mountain, in 1964 as a boy scout.
Young speaks good Mandarin and is learning to speak Hoklo (also known as Taiwanese).
He is also the veteran of many marathons and took only 19 minutes and 35 seconds to scale Taipei 101 two weeks ago.
Comments will be moderated. Keep comments relevant to the article. Remarks containing abusive and obscene language, personal attacks of any kind or promotion will be removed and the user banned. Final decision will be at the discretion of the Taipei Times.