PFP lawmakers condemn AIT's `colonialism'
People First Party (PFP) legislators yesterday accused the Ministry of Foreign Affairs and Taipei City Government of being unable to defend the nation's dignity in their dealings with the American Institute in Taiwan (AIT) regarding its new office building in Taipei.
"AIT has been taking what it wants from Taiwan for granted, because the US regards Taiwan as its colony," PFP Legislator Liu Wen-hsiung (劉文雄) said at a press conference.
AIT, currently located on Hsinyi Road, will be moving to what used to be the Taipei City Driver's Training Center, on Jinhu Road in Neihu District. The move is scheduled to take place in 2008.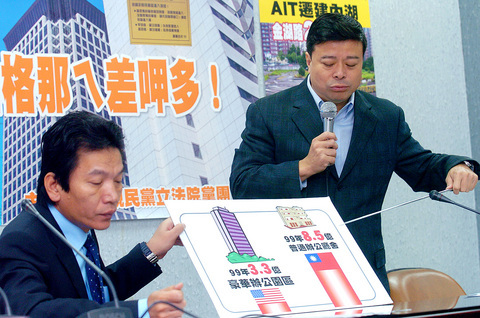 People First Party legislators Lee Hung-chun, left, and Liu Wen-hsiung, right, display statistics on the government's expenditures for the American Institute in Taiwan's new home in Taipei's Neihu District at a press conference yesterday.
PHOTO: CHIEN JUNG-FONG, TAIPEI TIMES
"AIT's current site was supposed to be a piece of land used for a school. Eight years ago, a resolution passed in the Taipei City Council demanded that the city government take back the land, but the city government has disregarded the resolution," Liu said.
Liu said the AIT asked for further benefits from the ministry and the city government after it signed a 99-year lease for the new site, which is roughly 2.6 hectares in size.
"It has been estimated that the new site is worth NT$8 billion [US$240 million], but the city will charge AIT only NT$330 million. AIT asked the foreign ministry to pay NT$6.6 billion to help construct its new office building," Liu said.
Ministry Spokesman David Wang (王建業) told the press in a separate conference that the construction was to be paid for by AIT, and the ministry would pay only NT$100 million to prepare the land and compensate people affected by the necessary demolitions.
National Property Bureau officials said at a separate event that the monthly rental of government-owned land was set at 5 percent of market value. If the land is leased to an embassy, an additional discount of 40 percent is given.
The officials denied that the bureau leased the land to AIT at an extraordinarily low price.
Comments will be moderated. Keep comments relevant to the article. Remarks containing abusive and obscene language, personal attacks of any kind or promotion will be removed and the user banned. Final decision will be at the discretion of the Taipei Times.