Premier says he wants to meet Shih Ming-teh
HOLDING OUT HOPE Su Tseng-chang urged people to be humble and tolerant of alternative viewpoints and said that a meeting with Shih could ease tensions
Premier Su Tseng-chang (蘇貞昌) yesterday said that he was willing to meet former Democratic Progressive Party (DPP) chairman Shih Ming-teh (施明德) as well as other politicians to try to find a way to end anti-President Chen-Shui-bian protests in an effort to restore normality.
"It is my sincere hope that all of us will be humble and accept different viewpoints. I would love to meet up with former chairman Shih. If I have a chance to meet him I will try to find out what he really wants and we will figure out a way to end the unrest," Su said.
The premier made his remarks while attending a ceremony promoting high-quality rice.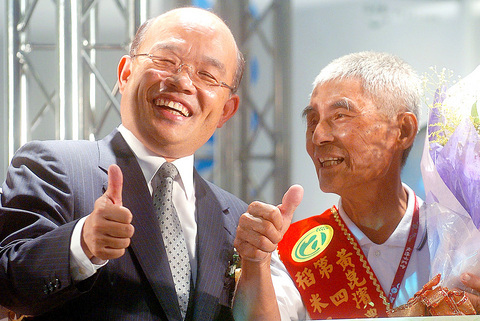 Premier Su Tseng-chang, left, gives a thumbs-up sign together with Huang Kun-pin when presenting Huang with the gold medal for producing the highest quality rice this year during an event promoting rice in Taipei yesterday.
PHOTO: CHEN TSE-MING, TAIPEI TIMES
He said that the ongoing protest against the president was still his biggest concern because he was worried that it would eventually impact on the economy. He said he would do whatever it would take to ask for help from fellow politicians to end the protest as soon as possible.
As for the ceremony, a 78-year-old farmer from Tainan, Huang Kun-pin (黃崑濱), won this year's gold medal for the quality of his rice.
Su said that Huang's achievement at the age of 78 was an inspiration to him.
"A farmer is greater than a politician because he works for the people while a politician only cares about himself," Su said. "As a premier, I can learn a lot from farmers. I need to work hard and I also need to observe the weather. If the weather is not good, it means I will need to do something to protect my crops."
Su also described how Huang had managed to grow rice of such quality. He said that Huang asked for help from previous gold medal winner, Taitung farmer Chiu Chuei-chang (邱垂昌), in an effort to improve the quality of his rice. Chiu, instead of keeping his knowledge to himself in an effort to win the competition, told Huang everything he knew about rice.
"That is why I said farmers are greater than politicians," Su said. "Chiu could have kept his secrets as he was competing with Huang but he did not handle the situation that way. That is the value of helping each other and a means of making Taiwan stronger."
Comments will be moderated. Keep comments relevant to the article. Remarks containing abusive and obscene language, personal attacks of any kind or promotion will be removed and the user banned. Final decision will be at the discretion of the Taipei Times.