DPP slams strike proposal from Shih's campaign
DAMAGING Party officials said a nationwide work stoppage would cost the country export earnings and foreign investment and hurt workers as well
The Democratic Progressive Party (DPP) yesterday blasted a nationwide strike proposal made by the organizers of the anti-President Chen Shui-bian (陳水扁) campaign, saying that a strike would harm the economy.
"The people will never accept such an abominable trick, holding the economy hostage for political objectives," DPP spokesman Tsai Huang-liang (蔡煌瑯) said. "A national strike would deliver a significant blow to the country's competitiveness and a rashly organized strike would be a very irresponsible action."
The Chinese-language China Times yesterday reported that the anti-Chen campaign organizers were planning to push for a nationwide strike next month if Chen refuses to resign.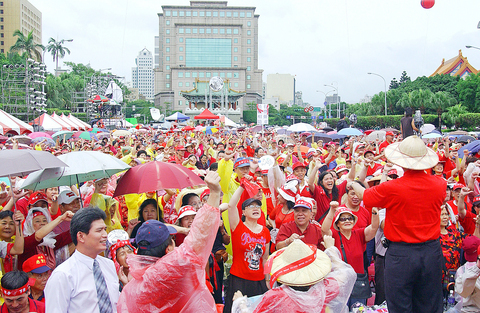 Hundreds of protesters chant slogans and flash the thumbs-down sign during a sit-in protest near the Presidential Office in Taipei yesterday.
PHOTO: PATRICK LIN, AFP
DPP legislative caucus whip Chen Chin-jun (陳景峻) said that Taiwan's economy would be doomed if such a strike were staged.
"We respect the sit-in protest and hope it will end peacefully and rationally," he said. "However, if organizers decide to stage a strike, the country would be ruined."
Chen Chin-jun called on the president and former DPP chairman Shih Ming-teh (施明德) to talk.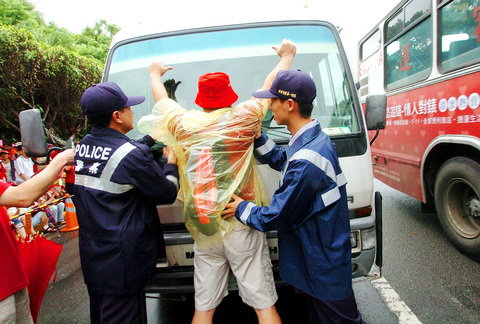 A participant in the Million Voices Against Corruption yesterday gives a thumbs-down gesture in front of a van from the Ministry of Foreign Affairs as he is taken away by two policemen.
PHOTO: LO PEI-DER, TAIPEI TIMES
"If Shih does not object, I am calling on the president to take the initiative to have a sit-down talk with Shih," he said. "The dialogue must be sincere, open, rational and selfless."
Through rational dialogue, he said, President Chen and Shih could hopefully figure out a way to end the political stalemate and strengthen social stability.
"I hope democratic pioneers will join forces to contemplate whether the country should move forward, retreat or even disappear from the face of the earth," he said.
DPP Legislator Yu Cheng-tao (余政道) echoed Chen Chin-jun, saying he hoped that the sit-in campaign organizers and pan-blue supporters would drop the idea of a strike.
"Taiwan can't afford to have more social unrest and the government can't afford to be paralyzed," he said.
Yu called on those who are "rational and sensible" to come out and stop efforts to launch a strike. Yu said a strike would cost the nation NT$10.4 billion (US$325 million) a day in terms of output value.
"If the strike caused an exodus of industries and social turmoil, who would want to invest in Taiwan and provide job opportunities for local workers?" he said.
Chen Chin-jun also criticized the People First Party (PFP) legislative caucus' plan to file a request in the next legislative session to recall the president. He dismissed the plan as "irresponsible" and urged opposition parties to make bills concerning people's livelihood their priority.
"If the PFP did file a recall request, I'm afraid the new session would become a political battlefield just like the last time, when the Chinese Nationalist Party (KMT) initiated a recall motion," he said.
Chen Chin-jun asked KMT Chairman Ma Ying-jeou (馬英九) and PFP Chairman James Soong (宋楚瑜) to act responsibly and consider whether there were any better solutions to deal with the problem.
Yu, meanwhile, called on Ma to "come out from behind Shih's apron" and let the judicial system discover the truth in the corruption scandals surrounding the first family and its in-laws.
Yu said that law enforcement officers have the right to restrain protesters who demonstrate outside of authorized areas. He was referring to plans announced by Shih's campaign office to besiege the Presidential Office and the president's official Yushan Residence on Friday, the last day of the first stage of the sit-in.
The Taiwan Solidarity Union (TSU) caucus voiced its objection yesterday both to the proposed strike and another recall motion -- but reiterated that it is staying neutral with regard to anti-Chen Shui-bian efforts.
also see story:

Threat of strike concerns businesses
Comments will be moderated. Keep comments relevant to the article. Remarks containing abusive and obscene language, personal attacks of any kind or promotion will be removed and the user banned. Final decision will be at the discretion of the Taipei Times.