Police nab serial bomber
Taipei police yesterday arrested Tso Mu-shu (鄒木樹), a 56-year-old car technician, for his alleged involvement in five bomb threat cases over the past five years.
The Chinese-language United Evening News reported that officials from the Taipei City Police Department's Zhongzheng First Precinct said Tso is not a new face to police, because he has been involved in bomb-related threats since 2002.
The police said Tso had been a constant troublemaker since he was arrested on drunk-driving charges and sentenced to 10 months in jail in 2002.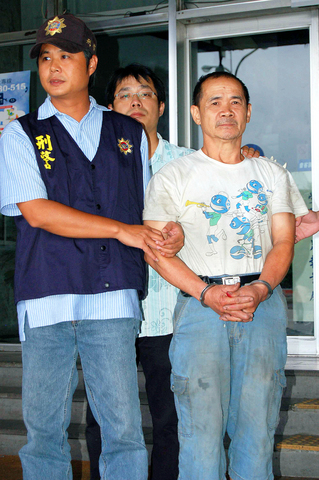 Tso Mu-shu is escorted from Taipei's Zhongzheng First Precinct yesterday after he was arrested for alleged involvement in five bomb-threat cases.
PHOTO: WANG SHU-HUNG, TAIPEI TIMES
Tso reportedly told police that his legal rights were invaded during the trial, so he filled up a car with firecrackers and tried to ram into the Presidential Office "in protest." He abandoned the car and ran away after the tires were deflated by a spike strip military police had placed around the building.
In 2003, he allegedly filled a car with firecrackers and parked in front of the Presidential Office, but left without igniting the explosives.
On Aug. 17, 2004, Tso allegedly set off several homemade bombs on the sidewalk in front of the Presidential Office.
On Oct. 10, he allegedly placed another bomb at the National Taiwan University Hospital MRT station. On July 31 this year, he allegedly set off a bomb at the Taipei District Prosecutors' Office.
No one was injured by any of the explosions.
The precinct said that officers were able to identify Tso after he called the station on July 31 to say that what he had done had nothing to do with politics or the police.
The police traced his call and arrested him at his Sindian home.
Comments will be moderated. Keep comments relevant to the article. Remarks containing abusive and obscene language, personal attacks of any kind or promotion will be removed and the user banned. Final decision will be at the discretion of the Taipei Times.