Kinmen coastguards rescue British sailor
A British man is expected to leave Kinmen today and continue a voyage to South Korea after being rescued on Friday by a Taiwanese fishing boat in waters near Kinmen.
According to the Kinmen coast guard, the 60-year old Englishman, Alastair Alexander, was on his motor sailboat, Faith, alone in waters near Kinmen on Friday evening. He asked a Kinmen fishing boat for help because his boat had lost power.
The captain of the fishing boat reported the matter to the Kinmen coast guard, which then helped Alexander to get his vessel to a fishing port in Kinmen on Friday evening.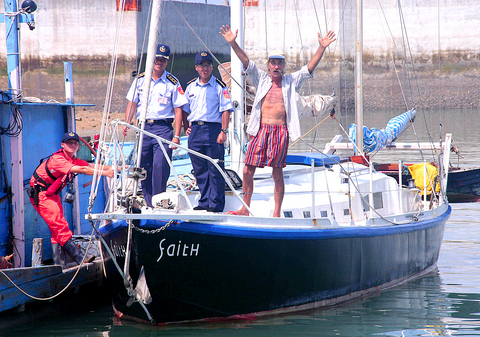 Sixty-year-old British sailor Alastair Peter Alexander waves from his motoryacht after being rescued in waters near Kinmen where the boat had been incapacitated due to engine failure.
PHOTO: CNA
Alexander told Kinmen coast guard Hsieh Wen-chia (謝文甲) that he intended to sail his vessel from South China to South Korea, and that he started his trip in Shantou City (汕頭), Guangdong Province on Thursday.
Alexander said that while sailing near Kinmen, the boat suffered engine failure which he was unable to repair.
According to Hsieh, Alexander said he had devoted himself to sailing for more than 20 years visiting more than 50 nations in Europe, Asia and Australasia in his boat.
Alexander was surprised to find himself on Kinmen as he initially thought he had ended up in China.
The Kinmen coast guard offered Alexander tools to fix his boat and also gave the him a crate of bottled water, a crate of beer and some food.
Hsieh said that Alexander, who has lived in Hong Kong for some time, had said that people on Kinmen were very welcoming and that he would visit the island again in the future if he had the chance.
Comments will be moderated. Keep comments relevant to the article. Remarks containing abusive and obscene language, personal attacks of any kind or promotion will be removed and the user banned. Final decision will be at the discretion of the Taipei Times.