Ma says visit to Japan boosted understanding
TOKYO MEETINGS The KMT chairman, who cut short his trip to Japan yesterday, said he had won support for his China policy during his visit
Chinese Nationalist Party (KMT) Chairman Ma Ying-jeou (馬英九) said yesterday that a visit he made to Japan, although cut short by two days, had helped the host country increase its understanding of KMT policy.
Ma, who also serves as mayor of Taipei, made the remarks before leaving for Taipei ahead of schedule as Typhoon Bilis was approaching Taiwan.
Ma, who arrived in Japan on July 10, was originally scheduled to leave Tokyo for Kyoto and Osaka on July 13, and return to Taiwan tomorrow. He is scheduled to return to Taipei today, one day early, to monitor the city's disaster prevention and rescue systems.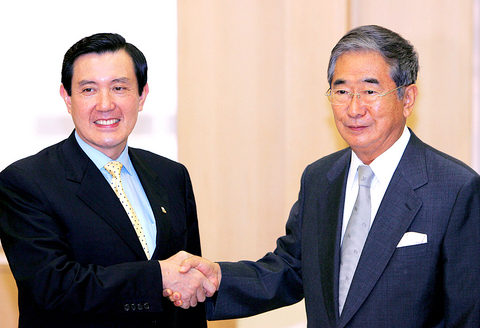 Visiting Taipei Mayor and Chinese Nationalist Party (KMT) Chairman Ma Ying-jeou, left, is greeted by Tokyo City Governor Shintaro Ishihara during their meeting at Ishihara's office in Tokyo yesterday.
PHOTO: AP
Prior to his departure, he told reporters in Tokyo he had discovered that the KMT's relations with Japan had not degenerated even though it is no longer the ruling party in Taiwan.
On the contrary, Japanese friends have great expectations for the KMT, mainly because both sides are in consensus on many subjects of common interest, he said.
Ma said key figures in Japan support his China policy proposal, an encouraging development because his "five noes and five do's" proposal won US support in March when he visited the US.
His five noes proposal is almost the same as President Chen Shui-bian's (陳水扁) "four noes plus one" policy -- no declaration of Taiwanese independence, no changing the national flag and anthem, no promotion of the inclusion of a "state-to-state" description in the Constitution, no holding of a referendum on the issue of independence versus unification, and no abolition of the National Unification Council.
The five do's that Ma plans to promote for cross-strait relations are: Resume dialogue on the basis of "`one China' with different interpretations;" sign a peace treaty with China; build a cross-strait common market; expand Taiwan's international participation; and promote cultural and educational exchanges.
The KMT and China reached a consensus on the "five noes and five do's" proposal last year, Ma said, adding that with Japanese support, it could become a "major consensus" in East Asia, so the KMT would work for its realization.
Ma said the KMT had been promoting the idea of "no conflicts in the area south of Japan," which has won Japan's support.
The most important way to put the idea into effect was for Taiwan not to declare independence and for China not to invade Taiwan, he said.
He said Japanese politicians told him they would be pleased to see the KMT improve ties with China, as it could help reduce tension across the Taiwan Strait.
Ma suggested that Taiwan could play "a certain role" in Sino-Japanese relations, a role that his party will try to facilitate.
Comments will be moderated. Keep comments relevant to the article. Remarks containing abusive and obscene language, personal attacks of any kind or promotion will be removed and the user banned. Final decision will be at the discretion of the Taipei Times.