Team presents biobank plans
GENETIC SURVEY Clinical research professionals sought to ease public concerns about the nation's first biological database and how data for it would be collected
Foundation of Medical Professionals Alliance in Taiwan yesterday said it planned to take a community-by-community approach in a bid to encourage enhanced public trust of the proposed Taiwan Biobank and make possible the establishment of the nation's first biological database by 2009.
The idea of establishing a national biobank was first introduced by the Department of Health (DOH) last December. It is hoped that the Taiwan Biobank can be formally established after four years' work conducting large-scale cohort studies on local illnesses.
The association has been entrusted by the DOH to carry out such research.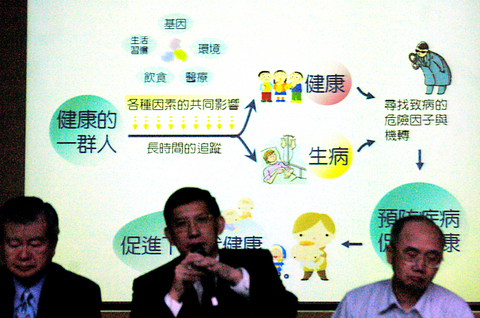 Three members of the Association of Clinical Research Professionals talk about the ethical, legal, and social implications of the proposed Taiwan Biobank during a press conference at Taipei Medical University yesterday.
PHOTO: SEAN CHAO, TAIPEI TIMES
The association's medical genetics team intends to promote a bottom-up supervision and participation mechanism in communities, said chairman of the association Wu Shu-min (吳樹民).
President of the Taipei Medical University Hsu Chung-i (許重義) said most people may not have a clear understanding of what exactly gene research involves.
"They may think of `the Incredible Hulk' when it comes to gene research," he said. "Thus through community health communication, differences in perception between professionals and the public may be bridged."
Social Empowerment Alliance chairman Tsai Tu-chien (蔡篤堅) said the project team has worked closely with the departments of health in Chiayi, Hualien and Miaoli counties to set up "model communities," in which people will receive extensive information about the establishment of the bank.
Tsai said that the pilot plans in these communities gave people the opportunity to decide what health information they would like to share with the community and what they wanted to be kept secret.
The team also agreed that individuals should sign consent forms before the collection of any biological data, chairman of the Graduate Institute of Philosophy at the Central University Li Jui-chuan (李瑞全) said.
The community-by-community approach may also help the team attend to the issue of human rights, said the association.
Individual biological samples will be collected in a conscientious and careful way to ensure participants' human rights are not abused, said Fan Chien-te (范建得), chairman of National Tsing Hua University's Institute of Law for Science and Technology.
He added that personal freedom is highly respected by the project and that "not every member of the community has to volunteer his or her biological data."
Participants can also choose to opt out of certain examinations, he said.
Li said future procedures for collecting people's health information will be strictly monitored by the team because volunteering genetic information means offering the health data of the entire family in some sense.
The team intends to collect samples from 15,000 people aged between 40 and 70 starting at the end of next year after human rights issues have been fully evaluated and discussed, Fan said.
The team will follow UN protocols and other countries' experiences in the use of and collection of personal biological data, Fan said.
Meanwhile, an official from the Ministry of Economic Affairs announced yesterday that it had approved an application from three local pharmaceutical companies to form a gene vectors research and development alliance.
He described gene therapy as a new hope for people with cancer or genetic diseases but noted that Taiwan still lacks key knowledge in producing genetic medicines, so the alliance should be helpful to Taiwan's biomedical industry.
Additional reporting by CNA
Comments will be moderated. Keep comments relevant to the article. Remarks containing abusive and obscene language, personal attacks of any kind or promotion will be removed and the user banned. Final decision will be at the discretion of the Taipei Times.