Hau tops early poll in Taipei mayoral race
ELECTIONEERING After an opinion poll put the former EPA head in the lead, four mayoral hopefuls tried to kickstart their campaigns at the reopening of an IT market
A recent public opinion poll that put former Environmental Protection Administration chief Hau Lung-bin (郝龍斌) ahead of the other candidates in the Taipei mayoral election has galvanized the lagging hopefuls into redoubling their campaign efforts.
According to a poll conducted by the Chinese-language United Daily News, the results of which were published on Thursday, Hau enjoyed the support of 32 percent of respondents, followed by Taipei Deputy Mayor Yeh Chin-chuan (葉金川) with 11 percent, and Chinese Nationalist Party (KMT) Legislator John Chiang (蔣孝嚴) with 8 percent.
More than 67 percent of respondents said they would not support People First Party Chairman James Soong (宋楚瑜) if he decides to join the mayoral race, while 8 percent said they would support former Taipei deputy mayor Ou Chin-der (歐晉德), despite his decision not to make himself eligible for the post, the poll showed.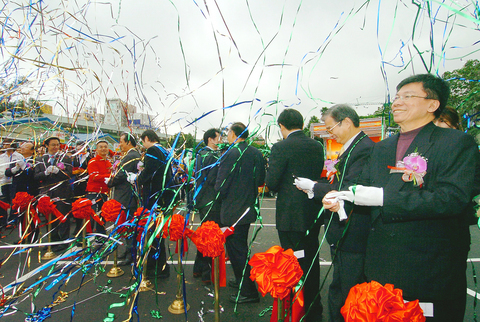 Former Democratic Progressive Party (DPP) legislator Shen Fu-hsiung, far right, attends the reopening ceremony of Taipei's Guanghua Market yesterday. Shen is planning to run for Taipei mayor.
PHOTO: CHIEN JUNG-FONG, TAIPEI TIMES
Soong, Chiang and Democratic Progressive Party (DPP) candidacy hopeful Shen Fu-hsiung (沈富雄) all attended a press conference to celebrate the reopening of Taipei's Guanghua Market yesterday. Ou also arrived a little while later.
"The pan-blue candidates must feel bad about lagging behind Hau in the poll, but I encourage them to keep trying," Shen said while chatting with Chiang.
"Your father is not as powerful as his [Hau's]," Shen told Chiang.
Although the election is still far off, it could be difficult to catch up to Hau, Shen said.
Shen then turned his attention to Ou and thanked the former deputy mayor for dropping out of the election.
"But I don't know if your move would help or hinder Yeh," he added.
Ou laughed off Shen's remarks, and said he would be happy to assist any candidate who is willing to serve the city.
"I hang out with local grass-roots supporters a lot, and I know what their needs are. I will be the messenger and I'm willing to help anyone who wants to serve Taipei," he said.
Soong, who had not been officially invited to the event, said the poll results are only useful as a point of reference.
"Election results can't be accurately judged from opinion polls. During the 2004 presidential election, [then KMT Chairman] Lien Chan (連戰) and I had a support rate of more than 50 percent in pre-election polls, and look what the final result was," he said.
Soong declined to say whether he plans to join the race.
Meanwhile, Hau yesterday paid a visit to the KMT for the first time since he decided to defect from the New Party.
"The campaigning for the party primaries has just started, and things can still change. I am thankful for the supporters' faith in me," he said.
The KMT will hold its primaries for the Taipei and Kaohsiung mayoral elections in May, while the DPP said it will choose its candidates about the same time.
Comments will be moderated. Keep comments relevant to the article. Remarks containing abusive and obscene language, personal attacks of any kind or promotion will be removed and the user banned. Final decision will be at the discretion of the Taipei Times.