Benefits of breastfeeding pushed at event
BREAST IS BEST Health authorities talked about the nutrition breast milk provides during a child's development and said that most mothers give it up far too early
A government bureau held a breastfeeding event for mothers yesterday aimed at extolling the benefits and dispelling some of the common myths surrounding the practice.
According to reports from the Bureau of Health Promotion (BHP), which co-hosted the event with the Breastfeeding Association of Taiwan, in 2004, 33.21 percent of women in Taiwan breastfed the first month after their child's birth, with figures decreasing to 16.93 percent after the first 4 months, and 13.13 percent for the first 6 months.
Room for improvement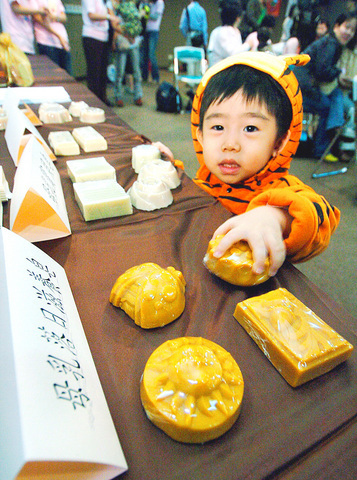 A child picks up soap made from mother's milk yesterday during a press conference sponsored by the Bureau of Health Promotion to promote World Breastfeeding Week.
PHOTO: FANG PIN-CHAO, TAIPEI TIMES
"These figures show that there is still room for improvement," said BHP deputy head Wu Hsiu-ying (吳秀英).
The World Health Organization (WHO) and the UN's organization for children, UNICEF, recommend that children should be breastfed until at least two years of age or longer. Up until six months, children should be breastfed on breast milk alone, while beyond 6 months of age, mothers should begin to add solid foods.
This dispels a common myth revealed in a survey commissioned by the BHP earlier this month, in which 884 people participated, and said that breastfeeding should not go on beyond the first 6 months of a child's life since breast milk decreases in nutritional value after that time.
UNICEF said last year that by increasing the number of women who exclusively breastfeed during their child's first six months, at least 1.3 million infant lives could have been saved last year.
Chen, Chao-huei (陳昭惠), Chief of the Division of Neonatology at Taichung Veterans General Hospital said, "Breast milk boosts the immune system and contains antibodies such as 1gA, which helps to prevent respiratory infection and digestive problems."
She added there are no active ingredients in formula milk that breast milk doesn't have and that in fact, formula milk seeks to mimic breast milk to as full an extent as possible.
A mother who attended the event said of breastfeeding, "You know that what you're giving your child is the best, something that money can't buy."
According to the BHP, breastfeeding is not only good for the child, but also good for the mother, increasing the speed with which she regains her figure, and decreasing the incidence of uterine and breast cancer.
Common myth
A commonly held myth about breastfeeding, revealed by the BHP survey, is that a large proportion of mothers don't produce enough breast milk.
However, the president of the Breastfeeding Association of Taiwan, Chen Yi-chun (陳怡君), said this could be greatly improved by increased suckling, which stimulates the mammary glands, and the correct positioning of the child.
From a psychological perspective, breastfeeding also serves to strengthen the bond between mother and child, increasing feelings of intimacy and security.
A mother of two, who breast fed her eldest up till the age of 4 and is still breastfeeding her two year-old said, "Many say that children who breastfeed tend to "cling" to their mothers more. But really it is that there is a closer relationship between mother and child. When you are holding your child in your arms, breastfeeding him, there is no barrier between you."
Breast milk is also good for a number of other purposes including making soap and as an ingredient for other culinary delights for toddlers.
Comments will be moderated. Keep comments relevant to the article. Remarks containing abusive and obscene language, personal attacks of any kind or promotion will be removed and the user banned. Final decision will be at the discretion of the Taipei Times.