Constitutional reform shifts power to voters: experts
The enshrinement of referendums in the Constitution highlights the history of constitutional reform in Taiwan, which has shifted the Constitution closer to the public, experts said yesterday.
The legal experts made the remarks at a panel yesterday held to discuss constitutional reform and to make suggestions for the second phase of constitutional reform President Chen Shui-bian (陳水扁) has pledged to carry out in the near future.
The first phase of constitutional reform during Chen's presidency was completed in June. It included transferring the power to vote on constitutional amendments from the National Assembly to voters, which was seen as enriching and raising the quality of democracy in the country.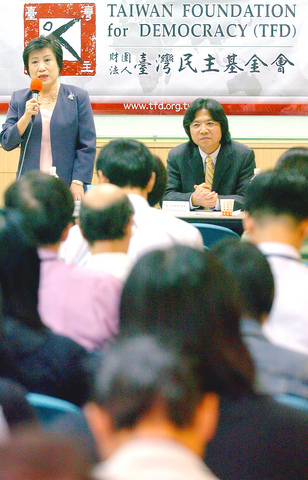 Maysing Wang, left, chairperson of the foreign ministry's Research and Planning Committee, speaks at a forum organized by the Taiwan Foundation for Democracy yesterday. Yeh Jiunn-rong, chairman of the Research, Development and Evaluation Commission, right, also participated in the event.
PHOTO: WANG MIN-WEI, TAIPEI TIMES
Yeh Jiunn-rong (葉俊榮), chairman of the Research, Development and Evaluation Commission, praised the referendum mechanism for initiating a "paradigm shift" in the country's constitutional reform history.
"With the right to vote on constitutional amendments via referendum, each party has to draft amendments that reflect the interests of the majority of people, not just those of political parties," Yeh said at the panel, which was hosted by the Taiwan Foundation for Democracy.
To get constitutional amendments passed, the proposals need the consent of more than half of eligible voters.
Yeh, who is also a member of the Constitutional Reform Commission under the Presidential Office, said the high threshold for passing constitutional amendments is helpful in ruling out the possibility of political manipulation in the process of reform.
Chang Wen-chen (張文貞), an assistant professor of law at National Taiwan University, however, said that the high barrier was in violation of the spirit of modern constitutionalism.
"Passing constitutional amendments by an absolute majority is too strict, as it could consolidate the majority's opinions over the longer term, leaving little chance of changing the Constitution in favor of the minority," she said.
Comments will be moderated. Keep comments relevant to the article. Remarks containing abusive and obscene language, personal attacks of any kind or promotion will be removed and the user banned. Final decision will be at the discretion of the Taipei Times.