No Cabinet reshuffle now: Hsieh
MAYBE LATER The Premier yesterday said in answer to KMT and TSU queries that this was not an opportune time to chop and change his Cabinet
Stating that adjusting the lineup of his Cabinet at this stage would lead to problems, Premier Frank Hsieh (謝長廷) yesterday said that he has no intention to reshuffle his Cabinet at the moment.
Hsieh made the remarks during a legislative interpellation session when questioned by Chinese Nationalist Party (KMT) Legislator Hung Hsiu-chu (洪秀柱).
"I think it is about time for you to make a change since your Cabinet members have made so much trouble recently. You cannot keep your eyes shut all the time, I'm afraid," Hung said.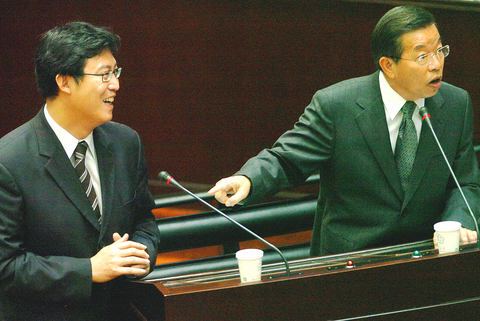 Premier Frank Hsieh, right, points at Government Information Office Minister Pasuya Yao, left, while defending him for his highly criticized handling of the Golden Bell Awards during a legislative interpellation session yesterday.
PHOTO: CHIEN JUNG-FONG, TAIPEI TIMES
In addition to the question posed by the KMT lawmaker, the Taiwan Solidarity Union (TSU) was also upset about the Cabinet's performance and asked Hsieh to explain what his plan is.
"We have several important proposals that concern the public and these proposals are currently pending at the legislature. These proposals were proposed by current Cabinet members and now is not the proper time for me to make any adjustments," Hsieh said.
TSU Legislator Huang Chung-yung (黃宗源) said Hsieh might want to consider Vice President Annette Lu's (呂秀蓮) advice over the personnel issue.
"[Lu] suggested the Cabinet should be reformed and reshuffled before the elections in December. Does that include yourself?" Huang asked.
"Maybe you should put your question to the vice president," Hsieh said.
Huang complained that President Chen Shui-bian's (陳水扁) policies and promises to his supporters during the presidential election were to "believe in Taiwan and insist on reforms," but Hsieh's Cabinet has made a lot of trouble and created many scandals recently.
"Isn't anyone going to be held responsible for any of these matters?" Huang asked.
The premier said that most of these cases or alleged scandals are now being investigated by prosecutors and he has no authority to interfere in law enforcement officers' work, although he is also upset about the sluggish progress of the investigation.
"I assure you that punishment will definitely be meted out if the result of the investigation shows that my Cabinet members are responsible for any of these alleged problems," Hsieh said.
"I hope to see the results, too. But, I cannot tell them [prosecutors] what to do," he said.
Meanwhile, Government Information Office Minister Pasuya Yao (姚文智) was invited to the TSU's legislative caucus office yesterday to give his opinion of the statute of the National Communications Committee (NCC), which was drafted by the pan-blue camp.
Yao said he was very upset about the pan-blue's version of the statute because politics will become involved, and this is not supposed to happen.
"Like I've said many times, the NCC should be a neutral organization and politics should be withdrawn," Yao said. "This new law is not helping at all."
In addition to the NCC issue, Yao's staying or leaving the Cabinet was also a point of discussion during the meeting yesterday because of several "misdemeanors" on his part recently.
These include getting caught taking naps during a presidential press conference when he was traveling with the president, misleading the press about the president's comments, larking around with flight stewardesses during the presidential trip and leaking the list of Golden Bell Award nominees to the press just a few days ago.
"I have already explained everything. These misunderstandings have nothing to do with whether I am staying or leaving the Cabinet," Yao said.
Comments will be moderated. Keep comments relevant to the article. Remarks containing abusive and obscene language, personal attacks of any kind or promotion will be removed and the user banned. Final decision will be at the discretion of the Taipei Times.