Taiwan, Alaska to further strengthen ties, Chen says
Taiwan will further strengthen its economic ties with Alaska by investing in more energy and tourism projects, according to President Chen Shui-bian (陳水扁).
The governor of Alaska, Frank Murkowski, on Tuesday treated Chen to a luncheon in Anchorage, which was attended by more than 60 Alaskan government officials, influential political figures and private sector representatives.
Murkowski said that Taiwan had been an important economic strategic ally of Alaska for decades, and he hoped that more Taiwanese investors would become involved in new development projects in Alaska.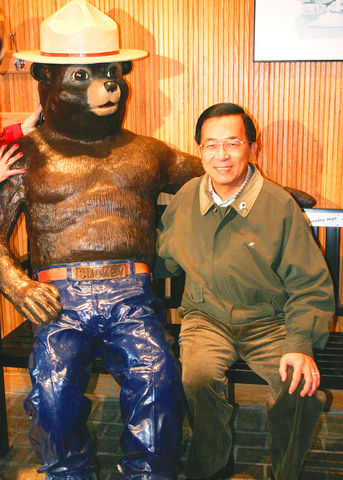 President Chen Shui-bian sits next to Smokey the Bear, a local mascot, in the Portage Lake tourist information center during a transit stop in Alaska on his way to Miami on Tuesday.
PHOTO: CNA
Chen said that Taiwan has regarded Alaska as one of its main overseas trade partners. In 2003, the Presidential Office's National Security Council set up an ad hoc committee to promote economic and trade exchanges and investment cooperation.
Last year, the trade volume between Taiwan and Alaska increased by 9 percent.
Two weeks ago, senior advisers to the president Kang Ning-hsiang (康寧祥) and Wu Li-pei (吳澧培) led a delegation of 57 representatives from the Taiwanese government and the private sector to Alaska to attend the second annual meeting of the Taiwan-Alaska Trade and Investment Cooperation Council.
According to guests attending the luncheon, Chen said that the achievement marked a great stride forward in exchanges between Taiwan and Alaska in the areas of energy, mining, fisheries, agriculture, forestry and tourism.
Chen said that Alaska is rich in natural resources, many of which are absent in Taiwan, adding that he admired Murkowski's long-term efforts to promote a natural-gas pipeline project, which has become North America's largest-ever private-sector construction project.
Margy Johnson, Director of International Trade in Murkowski's office, told the Taipei Times that in addition to business investment, professional exchanges would be further promoted.
"We plan to initiate exchange fellowships for young professionals in diverse fields, especially in tourism," Johnson said.
Chen's transit in Anchorage on his way to Miami on Tuesday was extended for 10 hours because of Hurricane Rita approaching Florida. Chen visited Chugach National Forest and Portage Lake to enjoy spectacular views of glaciers.
U-shaped valleys, the northern lights and pristine natural beauty make Alaska a preferred destination for tourists.
Comments will be moderated. Keep comments relevant to the article. Remarks containing abusive and obscene language, personal attacks of any kind or promotion will be removed and the user banned. Final decision will be at the discretion of the Taipei Times.