Chen calls science park a Taiwan success story
HIGH-TECH HUB As the park celebrated its second birthday yesterday, the president said it was an inspiration for Taiwanese companies and the nation
The success of the development of the Central Taiwan Science Park has debunked the myth that the growth of Taiwanese industries must rely on China's market, President Chen Shui-bian (陳水扁) said yesterday.
He spoke at a party celebrating the park's second anniversary.
The Taichung park is a hub of high-tech firms, especially in the photo-electronic industry, including AU Optronics Corp, ProMOS Technologies Inc, Winbond Electronics Corp and Corning Inc.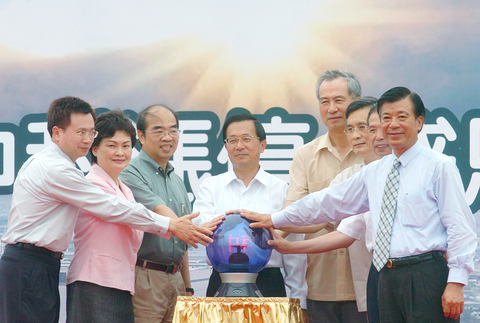 President Chen Shui-bian, center, accompanied by a group of officials, yesterday attends celebrations marking the second anniversary of the Central Taiwan Science Park in Taichung.
PHOTO: LIAO YAO-TUNG, TAIPEI TIMES
In the last two years, the park has attracted 70 high-tech firms, which have invested NT$760 billion (US$228.2 million) and created 10,000 jobs. It's estimated that the total sales of the park's firms this year might reach NT$60 billion.
Chen said that the establishment of the park had reversed the trend of local industries' moving their production operations abroad.
Statistics show overseas investment in central Taiwan last year reached NT$2.79 billion and the number of real estate deals grew by 40 percent, he said.
Using AU Optronics Corp as an example, Chen said that the world's third-largest thin-film transitor liquid-crystal display (TFT-LCD) manufacturer took only 15 months to set up its fabrication facilities in the park.
"The investment demonstrates the good partnership between the government and the private sector, ensuring Taiwan's leading role in TFT-LCD industry and its ability to contend with rivals such as South Korea," Chen said.
He said that the success of the park debunks a myth that the growth of Taiwanese industries must rely on the Chinese market.
"The former government intended to turn central Taiwan into a window to China based on direct links. However, it's been proven that relying on rivals' development to grow ourselves is absurd," Chen said.
He said that while the Chinese market did offer potential, people had to remember that China remains an economic rival and a threat to Taiwan's national security.
Chen said that risk assessment and management is necessary for Taiwanese businesspeople investing in China.
"We have to know what our advantages are and never take the risk of putting all our eggs in one basket," Chen said.
Comments will be moderated. Keep comments relevant to the article. Remarks containing abusive and obscene language, personal attacks of any kind or promotion will be removed and the user banned. Final decision will be at the discretion of the Taipei Times.