Legislators divided over Chen's decision to march
MIXED RESPONSE While the pan-greens praised and the pan-blues panned the president's decision, some foreign residents also said they would join the protest
President Chen Shui-bian's (陳水扁) decision to attend tomorrow's march to protest China's "Anti-Secession" Law received a divided response from the legislature yesterday.
While the Democratic Progressive Party's (DPP) legislative caucus praised the president's decision as evidence of his wisdom, the pan-blue alliance said that the decision is nothing but populism and that it will only belittle the nation's status.
DPP caucus whip Lai Ching-teh (賴清德) said that the president has legitimate reason to take part in the weekend demonstration since he is Taiwanese.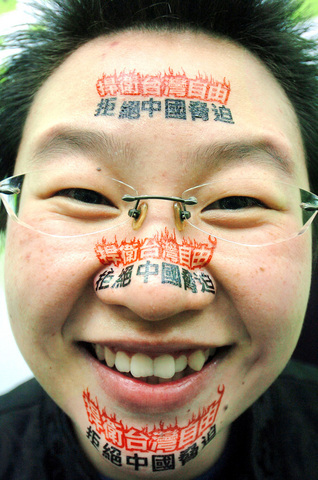 A Democratic Progressive Party worker wears transfers on his forehead and cheeks yesterday to celebrate the completion of a fund-raising event to pay for a special train to bring young people to Taipei for tomorrow's rally. The words say ``Defending Taiwan's Freedom, Against China's Aggression.''
PHOTO: GEORGE TSORNG, TAIPEI TIMES
"The caucus highly appreciates the president's decision to attend the march," Lai said. "Participating in the event but not addressing the crowd is not only sound judgment but also evidence of his political wisdom."
BULLIED
Despite opposition parties' criticism of Premier Frank Hsieh (謝長廷) who encouraged civil servants to attend Saturday's march, a DPP lawmaker and former judge Wu Ping-jui (吳秉叡) said that civil servants and political leaders have every right to participate in the weekend event to express their stance.
"In the face of China's Anti-Secession Law, every Taiwanese person, including government employees, is upset by China's bullying behavior and they have the absolute right to voice their displeasure," Wu said.
TSU caucus whip Lo Chih-ming (羅志明) said that although his caucus respects the president's decision, he thought that it would be a better idea for Chen to deliver a speech as well.
"The president should take advantage of the opportunity to send a strong message to the international community that we oppose the Anti-Secession Law on behalf of the 23 million people of Taiwan," he said. "It sounds a little bit weird for the president to participate in the march but not address the crowd."
People First Party (PFP) Legislator Lee Yung-ping (李永萍), however, said that Chen's decision to attend the march only signifies the nation's recognition of China and belittles the nation's dignity.
"It is a rare phenomenon for the head of state to take to the streets," she said. "It might lead the international community to think that Taiwan is part of China and that Taiwanese leaders have to stage a protest to have their voices heard."
Lee also questioned whether Chen's decision was aimed at courting pro-independence voters, some of whom have vowed to switch their support to the TSU, following a meeting between Chen and PFP Chairman James Soong (宋楚瑜).
"His decision not only tramples on the national interest, it also creates more problems," she said.
Another PFP Legislator Hwang Yih-jiau (黃義交) expressed concern that the president was leaning back toward the pro-independence side of the political spectrum.
"If that is the case, political confrontation between the pan-blue and pan-green is expected," he said.
Chinese Nationalist Party (KMT) caucus whip Chen Chieh (陳杰) called on the president to think twice about his decision and questioned the necessity for high-ranking government officials' to participate in the march.
"While Taiwan is an independent sovereign state, what does a Chinese law have anything to do with us, and why are our president and premier so nervous about it?" he said. "If their taking to the streets helps solve the problem, I am all for it, but I seriously doubt it."
`A JOKE'
Chen Chieh also called on the president and premier to spend more time contemplating how to better people's livelihoods and public security.
Another KMT lawmaker, Tsai Chin-lung (蔡錦隆), said that it is "inappropriate" for Hsieh to encourage civil servants to take part in the march, let alone to participate in the event himself.
"It is a joke that the premier encourages his ministers to go to a demonstration," he said. "I had originally planned to go, but now I've change my mind."
Meanwhile, a coalition of foreign residents gathered on the square inside the legislative compound and chanted slogans to voice their support for Saturday's march.
Michael Fahey, an American, said that it is not necessary at this point to do anything more dramatic than stage a demonstration.
"People have criticized this march as not having a specific goal, but I think that the most important thing is to make sure that the international community hears Taiwan's voice. I think that is the main point," he said.
Fahey last week began asking other foreign residents of Taiwan to join Saturday's march through the Web site forumosa.com.
Interested people are welcome to meet up at the side gate of National Taiwan University at 1pm tomorrow.
Comments will be moderated. Keep comments relevant to the article. Remarks containing abusive and obscene language, personal attacks of any kind or promotion will be removed and the user banned. Final decision will be at the discretion of the Taipei Times.