Lu returns home citing her tour's accomplishments
Vice President Annette Lu (呂秀蓮) said yesterday that her just-concluded diplomatic tour to El Salvador and Guatemala was a success.
She made the remarks after she arrived at CKS International Airport in Taoyuan.
In addition to helping consolidate relations with two of Taiwan's diplomatic allies in Central America, Lu said, her 12-day trip also laid the groundwork for local entrepreneurs to launch new investment projects in the region.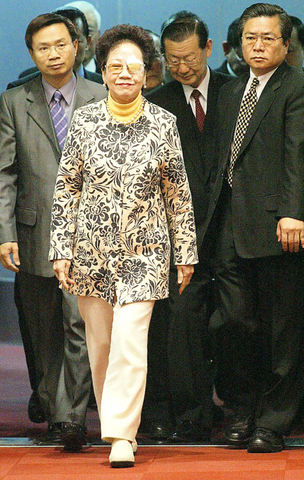 Vice President Annette Lu, center, returns to Taiwan early yesterday morning at the end of a diplomatic tour of El Salvador and Guatemala.
PHOTO: YAO CHIEH-HSIU, TAIPEI TIMES
During her visit, Lu said, she and her entourage received a warm welcome from top leaders and senior officials of the two host countries. Lu was also invited to deliver speeches at the Salvadoran and Guatemalan parliaments and some universities.
Lu said the presidents and legislators of the two Central American allies all voiced their opposition to Beijing's "Anti-Secession" Law and extended their staunch support for Taiwan's cause.
"The Guatemalan parliamentary speaker has promised to join with his counterparts in other Central American countries that maintain diplomatic ties with us in issuing a joint statement against China's Anti-Secession Law and in support of our national stance after the Easter holiday, " Lu said, adding that these moves point to the success of her visit in cementing bilateral diplomatic relations.
On the promotion of bilateral economic cooperation, Lu said several potential projects had been discussed by the 100-plus members of the delegation that accompanied her.
"The mission members from government agencies, the academic community and business circles made field studies and held numerous rounds of talks with their Salvadoran and Guatemalan counterparts to flesh out 18 feasible cooperative projects in agricultural and industrial fields," Lu said, adding that she will host a news conference today to unveil details of the projects.
She said Guatemalan President Oscar Berger Perdomo and Salvadoran Vice President Ana Vilma De Escobar are to visit Taipei later this year to sign free-trade agreements or attend the inaugural ceremony of the Pacific Democratic Union.
During her stay in Guatemala City, Lu signed a letter of intent with her Guatemalan counterpart on Taiwan's participation in a cultural relics restoration project. According to preliminary plans, Taiwan will help restore and renovate Museum Pilar de Zaragoza and Monastery Sor Juana located in Antigua City.
Restoration and renovation of the two sites are expected to be completed in two years, with a budget of around US$700,000, Lu said.
She also urged people to join a huge march in Taipei tomorrow to voice their opposition to Beijing's new law.
"The people of Taiwan should take to the streets to defend our national dignity and sovereignty in a peaceful and rational manner, " Lu said.
She also said that she hoped that all participants in the march would refrain from irrational or extremist actions.
Comments will be moderated. Keep comments relevant to the article. Remarks containing abusive and obscene language, personal attacks of any kind or promotion will be removed and the user banned. Final decision will be at the discretion of the Taipei Times.