Creating a 'Healthy Taiwan'
At a time when the nation's medical professionals suffer from a tarnished image and the National Health Insurance (NHI) program is reeling from financial woes, doctor-turned-minister Hou Sheng-mou took the helm of the Department of Health. Prescribing a `dynamic fine-tuning' of insurance rates for the ailing NHI system upon his inauguration, the minister has fleshed out his goals and unrolled a policy blueprint for the next four years. In an exclusive interview with `Taipei Times' reporter Wang Hsiao-wen, the minister shared his ideas on health reform and Taiwan's bid to join the World Health Organization this year.
Taipei Times: As the nation's highest health authority, what are your major goals and your vision? And how do you plan to achieve them?
Hou Sheng-mou (侯勝茂): The vision is "Healthy Taiwan." When I took the position, I expected myself to play four roles: a promoter of health for everyone, an educator about healthy living, a facilitator for the healthcare industry, and a participant in international healthcare. These are the four goals I set for myself as the minister of health. To achieve these goals, I follow two principles -- abide by the law and love the people.
TT: In regards to promoting health for everyone, you have proposed a "dynamic fine-tuning" of insurance rates in multiple areas to bolster the NHI and ensure people's access to medical care. You said "dynamic fine-tuning" could pull in about NT$30 billion and ease the NHI's current financial difficulties. Yet some critics say that this is just a cosmetic solution. What is your response to this criticism?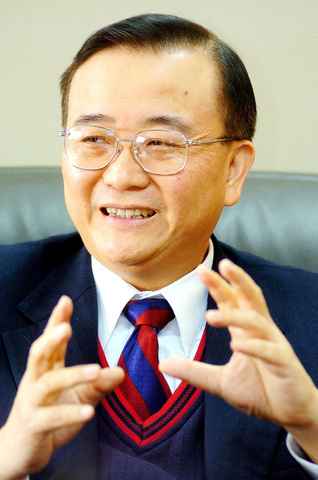 Hou Sheng-mou, minister of the Department of Health, smiles during an interview yesterday.
PHOTO: SEAN CHAO, TAIPEI TIMES
Hou: I don't think insurance rates should be kept pegged at the same rate in a changing society, especially one with an aging population and ever-advancing medical technology. But dramatic and revolutionary change will not be accepted by our society without causing a lot of harm. People don't really want a revolution. So the subtleties lie in how to avert public uproar on a fare hike, and yet sustain the hemorrhaging NHI at the same time. I am a surgeon and a pragmatist. I will try to solve the problem by fine-tuning the NHI for now.
Indeed, the fine-tuning of several different insurance rates is not perfect, but at least it will bring temporary relief to the NHI's financial pressure. To root out all these problems at the NHI, however, we need a revolutionary, fundamental change.
TT: What do you mean by a "revolutionary" change to the NHI?
Hou: In the 21st century, you need innovative thinking and new ideas. To reform the NHI, we [health officials] have mapped out a "second generation NHI," which will carry completely different concepts from the old NHI.
For instance, in the second generation NHI, health insurance will be levied on the basis of household income, not just an individual's monthly pay. And we also plan to introduce the concept of accountability in the NHI system. By "accountability," I mean that the insured -- not just the government -- is held accountable. You pay for what you get. As you know, the insurance rate has only been raised once in the past decade, from 4.25 percent to a slightly higher 4.55.
On the other hand, however, Taiwanese people do not want to give up what they have now. No one wants to have narrower insurance coverage or higher premiums. Now, it is proven that the premiums we collect are not enough to cover costs. A fundamental change must be made in the way we collect premiums in the second-generation NHI. People in Taiwan must understand that the NHI is a rare blessing for all. When former US president Bill Clinton came to visit Taiwan, I tried to put him and former minister of health Lee Ming-liang (李明亮) together to discuss the merits of the NHI. To promote public awareness of the NHI's benefits, I even proposed donating half of my personal fortune to Clinton if he would say that the NHI is a blessing for Taiwanese people. It is widely known that the NHI offers easier access to medical care at a cheaper premium than the US' healthcare system.
TT: You said fine-tuning insurance rates will serve only as a makeshift solution. Do you have any hope that the NHI's financial situation will improve in the short term?
Hou: No, I don't think the financial situation will turn much better, unless we can implement the second-generation NHI. Before we can usher in a new system, we can only adopt measures such as fine-tuning insurance rates in multiple areas to sustain the life of the NHI.
TT: Since you have pinned all your hope on the second-generation NHI, when exactly will it be fleshed out and put into action?
Hou: I have already organized a team to work on this. You need extra manpower and time to conduct pilot studies to rehearse a big policy change. For example, when you are developing a new drug, you need to go through a lot of animal and human clinical trials to ensure its safety and efficacy. Likewise, if you want to push for an all-out second-generation NHI, it is necessary to carry out a policy study to test the feasibility of the new NHI.
TT: How far are you progressing in the policy study? Have you selected any village or town to study the feasibility of the second-generation NHI?
Hou: Well, some places come to my mind, like the Hsinchu Science Based Industrial Park (新竹科學園區).
We are on the road to a second-generation NHI, but we don't have a set timetable. The blueprints have already been drawn up by former president of the Bureau of National Health Insurance Lai Mei-shu (賴美淑) and former consultant to the bureau Chu Tzer-ming (朱澤民). But whether the blueprint will be accepted by the Legislative Yuan or by the people is still far from certain. As a result, my initial step will be to organize a group of experts to have the blueprint discussed and criticized.
TT: Why will people object to the new NHI if, as you said, the new system can solve all the lingering financial problems of the old one?
Hou: One thing is for sure -- we should not take more money from people until the money can be well spent. Quality assurance in the practice of medicine should be ensured prior to any premium increase.
TT: How can the Department of Health manage to provide better medical service when the NHI system pays reimbursements to hospitals according to the quantity of patients, rather than the quality of medical services?
Hou: We are enhancing the quality of medical services by adjusting the insurance coverage. We have devised a scheme called "Health Technology Assessment" to decide which procedures and drugs will be included in the insurance coverage. Using evidence-based assessments, we re-evaluate the consequences of each prescription and drug, so that those hospitals who take in the most patients do not necessarily get the most money back.
For instance, I recently asked the Bureau of National Health Insurance to stop paying for 1,200 non-prescription drugs. In the past, the bureau has violated the National Health Insurance Law (全民健保法) by paying for these 1,200 non-prescription drugs. In retrospect, the bureau had no choice but to pay for them to win public support during the NHI's launching. But it is not right. I am determined to readdress this wrong. I asked the bureau to stop paying for these medicines in July and conclude a complete termination of such payments within a year. If patients with minor ailments, like stomach aches or a common cold opt for self-medication, then doctors can spend more time with each patient in clinics or hospitals. It is a win-win strategy for both doctors and patients.
TT: It seems that you have great expectations for the Bureau of National Health Insurance (BNHI). What other goals are you setting for the bureau?
Hou: The bureau has always been controversial. Like Chinese Petroleum Corp (中油) and China Steel Corp (中鋼), the BNHI is a state-run enterprise. But unlike them, the BNHI should not give year-end bonus to its employees according to how much profit it earned that year. This is not fair because the BNHI's annual income is always fixed, independent of the freewheeling marketplace. Over 99 percent of Taiwan's 23 million people are insured and pay their insurance premiums to the BNHI every month.
This, however, is not necessarily related to the performance of BNHI's employees. Therefore, I made a policy shift in the year-end bonus system. Now, only when the BNHI reaches the goal of curtailing at least NT$10 billion in medical spending can employees be awarded year-end bonuses. Only when employees can save NT$10 billion for the people of Taiwan will they get what they deserve.
TT: One of your goals is to be an active participant in international health affairs. Soon Taiwan will make its ninth attempt to be included in the World Health Organization (WHO). How will you boost Taiwan's chances of joining the international organization? Will there be any strategy shift to win over more allies in the World Health Assembly (WHA), the WHO's decision-making body?
Hou: The road is very long and the obstacles are big, but I have faith. Taiwan will never be discouraged by any obstacle from pursuing better health for everyone. Nor will Taiwan balk at eight successive failures to participate in the WHO. I would like to make the international community understand that Taiwan's bid to take part in the WHO is not a political act. Instead, it is part of a firm determination to protect the health of the 23 million people in Taiwan. We will follow the fundamental principle -- "Health for All" -- of the WHO as our strategy to win more allies in the WHA this year. As a decent citizen in the global community, Taiwan has the right to contribute to countries that are still in need.
TT: The WHA recently finished a draft of the International Health Regulations (IHR) and ratified a principle of universality, under which Taiwan might be included. Can the IHR, in your opinion, serve as a window of opportunity for Taiwan to win observership status this year?
Hou: Yes, of course. I think the WHO has begun to realize that not a single country should be left out of the disease prevention network. Excluded countries can quickly become loopholes and imperil lives beyond their borders. With SARS, avian flu and other newly emerging diseases in mind, the international community has become ever more interdependent. For neighboring countries, Taiwan can play a significant role in fending off disease in East Asia. I told the Japanese press that to support Taiwan's bid to enter the WHO will not only benefit Taiwan, but also the Japanese people.
Diseases have no eyes. SARS won't care if you are from Taiwan or Japan. It attacks everyone. Because of the lessons the world learned from SARS, Taiwan actually has a good chance to enter the WHO.
TT: Do you think Taiwan can exercise more leverage and garner more sympathy in the WHO this year, given the fact that the "Anti-Secession" Law has whipped up strong opposition in Taiwan and the international community? With China's bellicose gestures this month in mind, do you perceive that China might soften its stance over the issue to mollify the US, Japan and other powers in the world?
Hou: I am afraid not. I hope China will not oppress Taiwan, but there is little doubt that China will make an all-out effort to thwart Taiwan's bid to be included in any international organization. I don't expect the WHO to be an exception.
I only hope China can understand that health should be above political strife. Health is a basic human right. We have fought a good fight before, and we will continue to fight for our rights this year.
Publication Notes
Hou Sheng-mou
* Date of birth: July 1, 1950.
* Place of birth: Chiayi County.
* Education: Master of Public Health at Johns Hopkins University, 1994-1998; PhD from the Graduate School of Clinical Medicine at National Taiwan University, 1985-1988.
* Career: Director of the school of medicine at National Taiwan University, 1995-2004; chairman of the Department of Orthopedic Surgery at National Taiwan University Hospital, 2000-2004; vice superintendent of National Taiwan University Hospital, 1995-2000.
Comments will be moderated. Keep comments relevant to the article. Remarks containing abusive and obscene language, personal attacks of any kind or promotion will be removed and the user banned. Final decision will be at the discretion of the Taipei Times.