China victory not assured
MILITARY BALANCE China's forces are formidable, but Taiwan's weapons and the potential for US military support should keep Beijing from attacking, for now
China is steadily building up its military forces, but any armed action against Taiwan would still be a major gamble.
The 2.5 million-member People's Liberation Army (PLA) is the world's largest fighting force, but its hardware is outdated, its soldiers poorly trained and underpaid and its command structure is struggling to adapt to sophisticated modern warfare.
Facing it are the much smaller, high-tech Taiwanese forces, equipped with US and French fighter jets, cutting-edge stealth warships and Patriot missile defenses. Any invasion force would also have to contend with the 160km-wide Taiwan Strait and its massive tidal shifts, powerful winds and heavy seas.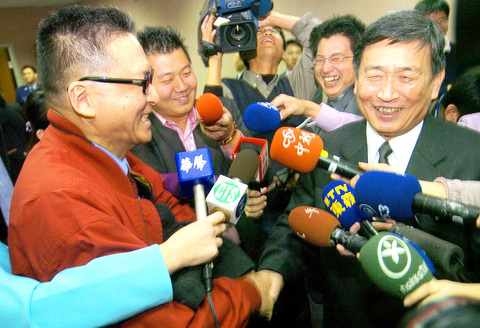 Independent Legislator Li Ao, left, yesterday shakes hands with Minister of National Defense Lee Jye, right, after the two exchanged ideas at a question-and-answer session in the legislature.
PHOTO: WANG MING-WEI, TAIPEI TIMES
Add to that the strong possibility of intervention by the US, which is required by domestic law to treat all threats to the island as a matter of "grave concern" -- phrasing that leaves open the possibility of military involvement but doesn't guarantee it.
Beijing ahead
Those factors make Chinese success against Taiwan uncertain, although Beijing has been working hard in recent years to boost its chances. Observers say rapid advances may have already tipped the balance in Beijing's favor, though not overwhelmingly so.
The awesome display of superior military technology put on by US forces during the 1991 Gulf War shocked Chinese military planners and spurred a massive modernization drive.
China has ordered billions of dollars in big ticket items from Russia, including about 130 highly advanced SU-27 and SU-30 fighter-bombers. The navy received Kilo class diesel submarines, as well as Sovremenny destroyers equipped with Sunburn anti-ship missiles designed to target the US fleet's most advanced vessels.
The 600-700 ballistic missiles positioned along the coast facing Taiwan are also among China's most potent weapons, with the potential to sow panic among the population and knock out key military and economic installations.
China has also focused on refining its manpower, cutting hundreds of thousands of troops while improving pay and training. The PLA has worked hard to attract top minds in science and technology for its missile, electronic warfare and computer logistics programs.
Blockade
A Chinese blockade of Taiwan by sea and possibly air would quickly hamstring Taiwan's trade dependent-economy. Strategic strikes, including missile assaults and electronic warfare and computer network blitzes, could blind its defenses.
And while the PLA isn't yet able to transport large numbers of troops to Taiwan, its navy, missiles, and air force would eventually wear down defenses. Taipei estimates its roughly 340 fighter aircraft could hold out for about a month until being overcome by losses.
Yet all such actions would prompt a heavy Taiwanese response and the possibility of intervention by the US Eighth fleet and forces based in Okinawa.
Any attack on the densely populated nation would also be likely to kill thousands of civilians. International criticism and isolation could take a heavy economic and political toll, although Chinese leaders have repeatedly said they're willing to bear any cost for what they call the sacred task of unifying with Taiwan.
Even in the case of victory, it's not certain that a battered Taiwan -- its economy destroyed and population embittered against Beijing -- would fully integrate into the People's Republic.
Until those uncertainties become clearer, Beijing may be inclined to stick to the political arena while using its military as a threat lying in wait.
Comments will be moderated. Keep comments relevant to the article. Remarks containing abusive and obscene language, personal attacks of any kind or promotion will be removed and the user banned. Final decision will be at the discretion of the Taipei Times.