New TSU chairman sworn in
EYE ON THE FUTURE Su Chin-chiang and Lee Teng-hui both urged the party's membership to recommit themselves to the nation's development
Su Chin-chiang (蘇進強) became chairman of the Taiwan Solidarity Union (TSU) at a swearing-in ceremony at the Formosa Regent yesterday afternoon, vowing to make the party a voice for the people of Taiwan. \nHe also promised to push for enactment of anti-annexation legislation to counter Beijing's proposed anti-secession law. \nWith the strong backing of the TSU's spiritual leader, former president Lee Teng-hui (李登輝), Su actually took over the chairmanship two weeks ago from Huang Chu-wen (黃主文). \nHuang resigned to take responsibility for the TSU's worse-than-expected performance in last month's legislative elections. \nMany prominent political figures attended yesterday's ceremony, including Vice President Annette Lu (呂秀蓮), Premier Yu Shyi-kun, Legislative Speaker Wang Jin-pyng (王金平) and acting Democratic Progressive Party Chairman Ker Chien-ming (柯建銘). \nAfter Su took his oath and promised to hold fast to Lee's political line of pushing for a new constitution and changing the country's official name, Lee delivered a speech urging the TSU to make a comeback under Su's leadership. \nHe said he expected the party to support political cooperation for the country's development. \n"I think cooperation between the ruling party and the opposition parties is imperative at this point since the pan-blue camp retained its majority in the legislative elections," Lee said. \n"The aim in establishing the TSU was not to obtain advantages for itself but to help the government stabilize the political situation," he said. \n"As long as political cooperation doesn't deviate from the core values of Taiwan, it is not necessary for the TSU to oppose it or envy it," Lee said. \nHe also said that the TSU has to determine the real reasons for its election setback and examine why its appeals and values have not taken root in order for it to make a fresh start under Su's leadership. \nLee said that while the TSU is a small party, if it works hard to achieve its goals, enhances its activism and works with other pro-independence groups such as Taiwan Advocates, the Lee Teng-hui school and the Taiwan Professors Association, then it will offer a fresh perspective to all the people of Taiwan. \nIn response to Lee's request that Su exhibit his expertise in national defense and cross-strait issues during his term as TSU chief, Su said that he will lead the party to speak for people. \n"The TSU will be a chicken when facing China's ambition of swallowing up Taiwan. We will push an anti-annexation law to counter Beijing's aggression," Su said. \nHe said the TSU will also work on legislation to ensure the equality of different ethnic groups and protect the rights of farmers and fishermen. \nLee praised Su as "a man who is able to wield both the pen and the sword." \nThe 52-year old Su was previously secretary-general of the National Cultural Association. A graduate of one of the nation's military academies, Su has served as senior advisor to the National Security Council and as a military affairs analyst at Nanhua University. He is a prolific writer who has written both literary and academic works.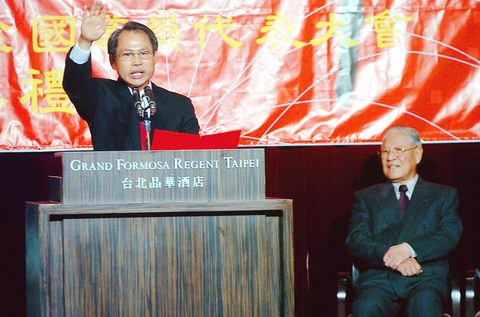 Su Chin-chiang, the new chairman of the Taiwan Solidarity Union, takes his oath of office yesterday at a ceremony at the Grand Formosa Regent Taipei, watched by former president Lee Teng-hui. Vice President Annette Lu and several other political dignitaries attended the ceremony.
PHOTO:CHIANG YING-YING, TAIPEI TIMES
Comments will be moderated. Keep comments relevant to the article. Remarks containing abusive and obscene language, personal attacks of any kind or promotion will be removed and the user banned. Final decision will be at the discretion of the Taipei Times.