Chen and Mutharika ink negotiation communique
HEARTS OF WARMTH The Malawian president lauded Taiwan's efforts to help develop his country, while Chen pledged technical assistance and various aid projects
President Chen Shui-bian (陳水扁) yesterday signed a joint communique with visiting Malawian President Bingu Wa Mutharika, stating that all countries should resolve their disputes via negotiation. \nIn the communique, the two leaders urged all countries to strive for democracy, human rights and law and order, so as to maintain world peace. \nExchanging views on recent happenings around the world and issues pertaining to Asia and Africa, Chen and Mutharika also expressed condolences for the victims of the tsunami. \nThe communique, forged at the Presidential Office, also touched on the two countries' bilateral cooperative projects. \nAmong the plans with which Taiwan has agreed to assist the Malawian government include technical assistance in projects related to fishery, fertilizer manufacturing, train building and plans to develop its e-government infrastructure and Malawi's country-sides. \nTaiwan also agreed to provide aid to help build a parliament building in Malawi's capital of Lilongwe as well as to construct a multifunction conference facility. \nChen restated Taiwan's willingness to share with Malawi its successful experiences in developing itself. \nChen added that he felt gratified that there have already been some manufacturers in Taiwan who said that they will set up or invest in fertilizer manufacturing and pharmaceutical factories in Malawi, to help develop Malawi's economy as well as to provide employment opportunities for people there. \nExpressing gratitude over the assistance provided by Taiwan in helping Malawi develop its agricultural sector, build hospitals and construct roads and bridges, the Malawian president lauded Taiwan's economic achievements, stating that Taiwan has what it takes to make a contribution to the world's prosperity and development. \nMutharika also reiterated his country's support in its goal of joining the UN and the World Health Organization. \n"This visit had me profoundly feel the friendliness and warmth of people in Taiwan. Although the two countries are far from each other in term of geographic distance, I believe the hearts of the two countries' people are close together," said Mutharika, adding that "just as Malawi is Africa's `heart of warmth,' so to is Taiwan Asia's `heart of warmth.'" \nMutharika and his team of ministers concluded their five-day official visit to Taiwan with a military ceremony held at Chiang Kai-shek Memorial Hall yesterday afternoon.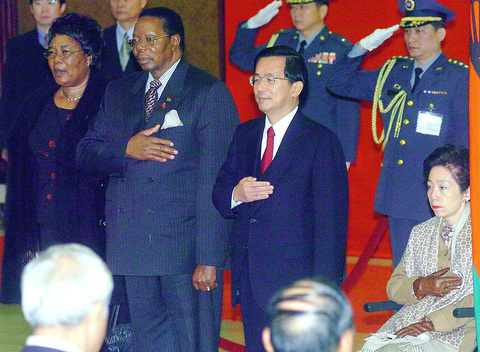 Visiting Malawian President Bingu Wa Mutharika, second left, and his wife, first left, are given an official send off with military honors at the Chiang Kai-shek Memorial yesterday by President Chen Shui-bian, second right, and his wife, first right.
PHOTO: YEH CHIH-MING, LIBERTY TIMES
Comments will be moderated. Keep comments relevant to the article. Remarks containing abusive and obscene language, personal attacks of any kind or promotion will be removed and the user banned. Final decision will be at the discretion of the Taipei Times.