Foreign workers protest
AMENDMENT WANTED When a foreign worker is involved in a labor dispute, they should be able to request a visa extension, rights groups said yesterday
Foreign labor rights groups yesterday urged the Council of Labor Affairs (CLA) to amend labor laws so that foreign laborers can extend their stay in Taiwan in cases where there is a labor dispute. \nSome 30 foreign migrant workers, led by the Taiwan International Workers' Association (TIWA), held a demonstration outside the CLA building yesterday. \nThe workers, from the Philippines, Vietnam and Thailand, say they are owed three months' salary by their employer, a factory in Taipei County, but may be forced to leave the country before their case is resolved. \nDespite several rounds of negotiations between the county government's Bureau of Labor Affairs and the company, the workers have not yet been paid. \nSome 125 foreign workers that the company allegedly hasn't paid are facing repatriation within 14 days. \n"Many foreign workers in labor disputes, or who have suffered occupational injuries, or have even been raped by their employers, are deported right away. Due to the expiration of their Alien Residence Certificates (ARC), many are unable to stay in Taiwan long enough to have their disputes settled," said Wu Jing-ru (吳靜如), chairman of TIWA. \nAccording to Huang Hsiao-ling (黃小陵), general-secretary of the Taiwan Association for Victims of Occupational Injuries, it is common for foreign migrant workers who have suffered occupational injuries to be deported by their employer and manpower broker. \n"But some of these workers are sharp enough to sense that they are about to be deported, and they will try to escape," Huang said. \nIn the past, lack of legal help was an obstacle. \nBefore the establishment of the Legal Aid Foundation last July, most disputes involving foreign migrant workers were not resolved because they could not afford to hire a lawyer, Huang said. \nThe foundation provides free legal assistance to low-income families and those who cannot afford to hire legal professionals. \nIn response to the rights groups' protest, the CLA said ARC extensions can only occur under certain circumstances. \n"In cases that involve criminal litigation, such as sexual assaults where defendants need to testify in court, extensions are normally granted," said Tsai Meng-liang (蔡孟良), a section chief at the council's department of foreign labor affairs. \nArticle 29 of the Immigration Law (入出國及移民法) states that aliens must apply for an extension before their residence visa expires if they need to remain in Taiwan. \nHowever, in civil cases, extensions are harder to get. \nDue to the time-consuming nature of civil lawsuits, the CLA advises foreign workers to appoint a trustee to represent them once they have left the country. \nTsai also said that there are two types of paperwork deadlines that a foreign migrant worker needs to be aware of. \n"The first is the employment permit issued by the CLA, the other is the ARC, which is issued by a local police station. In a special circumstance where an ARC extension is needed, one just needs to go to the police station to make the request," Tsai said. \nAn employment permit is issued to an employer; based on the information appearing on the permit, an ARC is then issued to the foreign worker by a police station. \nHowever, Article 74 of the Employment Service Act (就業服務法) stipulates that, under normal circumstances, once an employment permit has expired, the foreign worker will be ordered to immediately leave and is barred from working in Taiwan.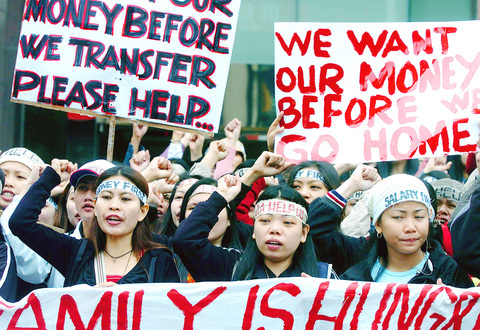 Foreign workers demonstrate outside the Council of Labor Affairs yesterday, urging the council to amend labor laws so that foreign laborers can extend their stay in Taiwan in cases where there is a labor dispute.
PHOTO: CHIANG YING-YING, TAIPEI TIMES
Comments will be moderated. Keep comments relevant to the article. Remarks containing abusive and obscene language, personal attacks of any kind or promotion will be removed and the user banned. Final decision will be at the discretion of the Taipei Times.