Aid workers tell of suffering and love in Sri Lanka
DISASTER RELIEF Three members of World Vision Taiwan recounted their experiences in Sri Lanka providing aid to survivors of the tsunami disaster
A team of three World Vision Taiwan staff members returned from Sri Lanka yesterday, where they were providing aid to survivors of the tsunami that has brought widespread destruction to South Asia. \nMiriam Young (楊嘉琪), Jerry Lin (林政杰), and Joy Shen (沈柏喬), set out for Colombo on Dec. 27 from Taipei to bring supplies to tsunami survivors who desperately needed outside support to stay alive after the disaster. \n"On the second day, we left Colombo for Galle, a harbor in the south and one of the worst hit areas. As we approached the coastline, the images that met my eyes I have only seen before in World War II movies: Houses and ships were totally wrecked, and ruins were everywhere," said Lin, a marketing and resource-development manager. \nThe stench of rotting corpses could be detected from some distance off, and decomposition posed a public health concern. \n"Given the average temperature of 35OC to 36OC, if the bodies are not processed soon enough, decomposition will take place and contagious diseases may follow," Lin said. \nThe team brought along staple foods purchased in Sri Lanka with money donated by Taiwanese, and distributed the goods to families in the area. Each ration, which included items such as rice, tea and canned fish, was enough to last a single family three or four days. \n"During the first stage of relief efforts, the goal is to get the supplies and food to the victims. After the first 10 days comes the second stage, in which the reconstruction of infrastructure begins," said Shen, an international ministry program officer. \n"Many victims simply threw out their damaged personal belongings after [Taiwan's 921] earthquake, but not the Sri Lanka victims. After the disaster, they went back to their devastated homes to pick up whatever remained -- you could see people drying off drenched books," Lin said. \nYoung said that there were three things survivors looked for when revisiting tsunami-hit places: missing family members, a place to stay for the night and food. \nA 85-year-old grandmother whose family was torn apart by the tsunami told Yang of a horrifying experience: On Dec. 26, her daughter had just stepped out of the house to get her some water, when the tidal waves came crashing down and nothing has been the same again. \nThe grandmother's son-in-law suffered from a spine injury and had been hospitalized, and her daughter was missing. \nEach day, she took her grandchild along to the shores looking for her daughter. \nAs the grandmother was narrating her story, her eyes filled with fears. \n"At that moment, I was touched and offered the grandmother a hug. Unexpectedly, in return, she gave me the most heartwarming hug I have ever received. While we were hugging, she broke into a sob so heart-wrenching that I felt she was relieving herself of all the sorrows that have been stored up in her life up till that point," said Young, an editor. \nAlthough they did not share a common language, "it really dawned on me at that moment that love transcends all languages and cultures," Young said. \nThe aid workers said the Sri Lankan survivors were surprised to see foreigners at first, but quickly recovered and welcomed them. \n"They greeted us and kept asking if we were tired," Lin said. \nRelief efforts also went beyond national, religious and organizational boundaries. \nAccording to Shen, all aid agencies worked through the Sri Lankan government and with one another, and the spirit of team work became evident in their co-operation. All medical supplies from abroad had to be stored at government-owned warehouses, from where they were distributed by NGOs and medical teams to various shelters. \n"Victims are sheltered in temples and churches by different organizations. Although World Vision is a Christian organization, we have no problem placing victims in temples of other faiths," Shen said. \nIn Negombo, a village on the west coast of Sri Lanka, a refuge for 1,800 children run by World Vision Taiwan was completely wiped out by the tsunami. \n"The houses were destroyed, but the children were safe," Young said. \nShen said 90 percent of the families in Negombo made their living from fishing, and the tsunami deprived them of their only means of staying alive. \nInfrastructure reconstruction, job creation and helping people get their lives back on track require long-haul planning and committed volunteers. \nSo far, World Vision Taiwan has recruited 42 volunteers who will be leaving for Sri Lanka on Jan. 15 to assist with reconstruction efforts. \nAll 42 will stay for at least a month, as it is a long-term relief assistance program. \n"We selected these volunteers carefully. They are not people who have been momentarily touched by the tragedy, but people who are deeply committed to getting the job done under rather difficult circumstances," said Kuo Hsiu-ling (郭秀齡), World Vision Taiwan's resource development chief. \nIn addition to Sri Lanka, World Vision Taiwan has also been providing aid workers to Indonesia and India. \nAccording to World Vision Taiwan's assessment, Thailand has the best chance of recovering by itself, and the aid group has consequently focused on helping Sri Lanka, Indonesia and India. \nWorld Vision Taiwan is the only aid agency present on the island of Pulau Nias in Indonesia. It is contemplating the establishment of a Taiwanese relief assistance village on the island. \nAs of yesterday, World Vision Taiwan has collected NT$45,585,147 in cash donations. \nAt the agency's office, stacks of postal money-transfer receipts have yet to be processed; phones are ringing off the hook and volunteers patiently answer eager donors' questions. People also stop by the agency to drop off their donations. \nAlthough the need in disaster-hit countries is dire and workers are few, the people of Taiwan, through their generous financial donations, have touched the victims in South Asia with their love.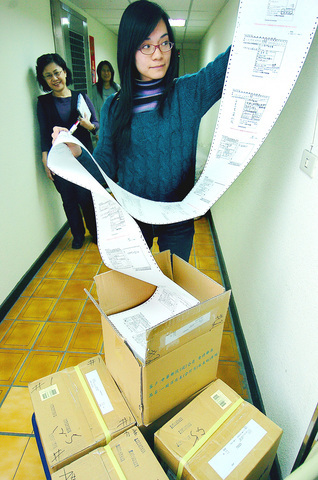 A staff member of World Vision Taiwan displays a long list of donations from the public to help relieve tsunami-devastated South Asian countries. Five boxes were needed to hold the massive amount of transfer slips gathered in just one day.
PHOTO: GEORGE TSORNG, TAIPEI TIMES
Comments will be moderated. Keep comments relevant to the article. Remarks containing abusive and obscene language, personal attacks of any kind or promotion will be removed and the user banned. Final decision will be at the discretion of the Taipei Times.