Dead plankton great crab draw
MANNA FROM THE OCEAN A Taiwanese scientist and his team discovered that the high-density crab population off Kueishan Island is made possible by an unusual ecosystem
After several years of research, the opportunistic and unusual feeding behavior of a shallow-water crab that lives off Kueishan Island has been explained by scientists from Taiwan and Singapore, Academia Sinica said yesterday. The findings were published in the world-class science journal Nature on Thursday. \nThe scientists discovered that crabs of diverse sizes feed on vast numbers of zooplankton that are killed by toxic sulphurous plumes emitted from underwater vents. \n"Food for the crabs rains down like marine snow," Jeng Ming-shiou (鄭明修), a zoologist from Academia Sinica's Institute of Zoology and author of the report, said yesterday at a press conference. \nSince 1999, Jeng has observed the behavior of the hydrothermal vent crab, Xenograpsus testudinatus, off the island located some 10km east of Toucheng Township, Ilan County. It's also known as Turtle Island due to its shape, which is said to resemble a turtle emerging from the surface of the sea. \nAccording to Jeng, little was previously known about the ecology of hydrothermal vent crabs. A similar crab species has been observed feeding on the ocean floor using its pincers but its exact diet remains unknown. Most researchers have focused on deep sea crabs and rarely focus on crabs living in water less than 200m deep. \nThe Kueishan Island is part of the Okinawa arc. Showing the press an underwater videotape, Jeng said that in periods of calm water, they observed thousands of crabs swarm out in a feeding frenzy on the sea floor over an area of a few square meters. \nJeng said in the unusual system, the vent discharges are sulphur-rich and highly acidic, with pH levels between 1.75 and 4.60. Temperatures at nine vents were measured at between 65?C to 116?C. \nHowever, it is estimated the population density of the crab exceeds 364 per square meters in waters ranging from 3m to 30m deep. \nThe unusually massive, dense crab population was what first motivated the research. \n"We were very curious about how the ecosystem can support such a substantial crab population," Jeng said. "What are the crabs feeding on?" \nJeng explained motives of the research that he carried out jointly with other scientists from the University of Singapore. \nHaving spent five years observing the crabs underwater, and dissection of such crab specimens revealed that their guts were full of zooplankton. \nJeng and his teammates finally concluded that millions of crabs were feeding on zooplankton. \n"The swarming behavior is seen only during periods of calm water, when the mass of descending zooplankton has the appearance of falling snow," Jeng said. \nIn his article, Jeng writes that the crabs time their foraging to coincide with these marine "snowfalls" in order to maximize their efficiency in harvesting the plankton. \nTo confirm the findings, Jeng now plans to look into zooplankton's tolerance of toxicity. \nThe species is the only dominant creature there. Shao Kwang-tsao (邵廣昭), a zoologist at Academia Sinica's Research Center for Biodiversity, said that the uniqueness of the simple food chain in this ecological system deserved further study. \nScientists presume that crabs take food twice a day due to the difficulty in oberving the species' behavior at night, the assumption need to be further confirmed. \nShao agrees that the adoption of high-tech instruments and communication technologies could be a possible way to enhance scientists' observation of unusual ecological systems such that around the shallow water vents at Kueishan Island.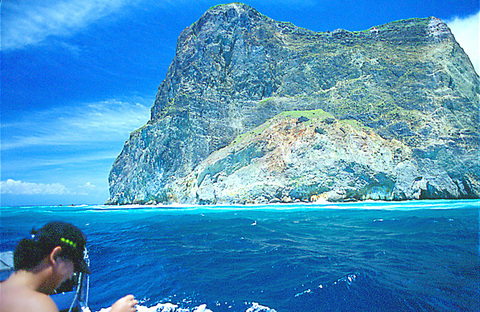 Kueishan Island (known as Turtle Island), which is located some 10km east of Toucheng township, Ilan County, received its nickname because it resembles a turtle emerging from the water.
PHOTO: INSTITUTE OF ZOOLOGY OF ACADEMIA SINICA.
Comments will be moderated. Keep comments relevant to the article. Remarks containing abusive and obscene language, personal attacks of any kind or promotion will be removed and the user banned. Final decision will be at the discretion of the Taipei Times.