Better land use planning urged
OUTDATED PLANNING Scientists differ on whether global climate change is the real culprit behind recent damage. But all agree that better land use planning is needed
Amid a spate of massive damage caused by floods, landslides, and mudflows resulting from frequent typhoons, experts are saying that Taiwan is paying a heavy price for its unwise land use policies. \nNow, there are growing calls for comprehensive scientific research on the impact of global climate change on the local ecology, to provide sorely-needed data that can serve as a basis for future land planning. And experts say that the government needs to devise practical economic strategies to ensure that land use schemes, once designed, can actually be implemented. \nSome attribute the increased frequency of natural disasters to an unstable geological structure loosened by the devastating 921 Earthquake, which claimed more than 2,400 lives in Taiwan in September, 1999. Others say that global climate change is the key factor causing extreme local weather. What is clear to all is that the country's past land use planning has left much to be desired. \nLast week, the Cabinet's Directorate-General of Budget, Accounting and Statistics said that, among 52 typhoons and tropical storms that hit Taiwan in the last decade, five have caused financial losses exceeding NT$5 billion in the agricultural sector. The worst was in late July 1996, when Typhoon Herb brought nearly 2,000mm of rain within days to central Taiwan, leading to 73 deaths and NT$14.78 billion in losses. \nIn early July, floods were triggered by the passage of Tropical Storm Mindulle, which brought rainfalls exceeding 2,100mm in six days to certain places of the Central Mountain Range. Mindulle caused 41 deaths nationwide and NT$9 billion in losses in the agricultural sector. \nYang Chung-hsin (楊重信), a landscape professor at Chinese Culture University and an economics researcher for Academic Sinica, told the Taipei Times that typhoons and floods had been common in Taiwan for decades, but that unwise land use strategies involving agricultural development and forest management in the mountains had caused serious casualties. According to Yang, statistics from 1958 to last year show that, on average, 117 deaths and missing persons reports relate to such disasters. \n"Taiwan needs to construct an ecological fund, which can be used for economic incentives or compensation while urging people to give up their mountainous cropland areas," Yang said. \nAccording to the Cabinet's draft of the National Land Planning Act, about 63 percent of 3.6 million hectares of national land, which includes an existing 300,000 hectares of legal crop land in mountains, will be designated as ecological reserves. The draft will be further reviewed by the Legislative Yuan. After its passage, the act will not take effect until six years after it is officially announced. \nDuring the transition, Yang said, forced land acquisition or a ban on planting on legal agricultural land in mountains might cause public discontent. \n"That's why we need an ecological fund. Sources can be government loans or part of the budget for public construction," Yang said. \nYang said that the annual budget for public construction exceeds NT$150 billion but that new construction is not necessary. Yang said the government should allocate 20 percent of the budget for ecological conservation. \n"Carrying out appropriate land use policies to restore damaged ecosystems takes time, but wise economic strategies can help ensure that the newly-drafted act upholds the spirit of ecological conservation," Yang said. \nChiou Chang-tay (丘昌泰), a public policy professor at National Central University, said the newly-drafted act maps out land use schemes to deal with challenges induced by the globalization of environmental problems due to climate change. \n"What worries us now is that such schemes involve too many governmental agencies, and we don't see a powerful administrative center that can integrate dispersed efforts," Chiou said. \nOther development experts said it remains uncertain if all the agencies involved had fully committed themselves to the promotion of sustainable development in Taiwan in the 21st century. \n"We see signs that certain agencies are adjusting themselves to global mainstream ideas stressing sustainability. However, I'm still pessimistic about the thinking of transportation officials in Taiwan," Lee Yung-jaan (李永展), an architecture and urban planning professor at Chinese Culture University, said. \nLee blames excessive road construction for the ugliness of rural areas and ecological deterioration in the mountains. \nIn addition to ecological reserves, Minister Without Portfolio Lin Sheng-feng (林盛豐), said that the act designates 25 percent of state-owned land as special zones for agricultural development and another 12 percent for urban planning and rural development. \n"We have to design our public constructions to be more ecologically-friendly," Lin said. \nHowever, environmental experts said solid scientific research is urgently needed so that the government has access to practical data. \nLiu Chung-ming (柳中明), a professor of atmospheric sciences at National Taiwan University, said recent natural disasters had triggered discussion on the correlation between global climate change and extreme weather. But in Taiwan, there's a lack of hard data to inform that discussion.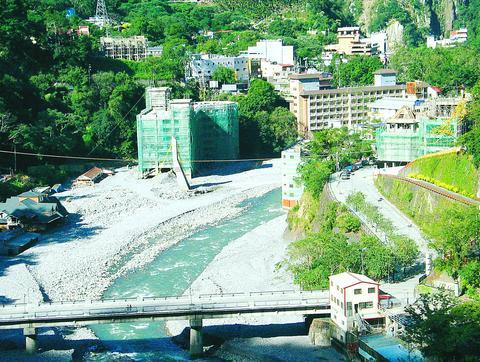 In Kukuan, Taichung County, several spa hotels built near the Tachia River to attract tourists were ruined after floods in July. Inappropriate land use in mountains has been cited as one of the main causes of serious damages after typhoons.
PHOTO: CHIU YU-TZU, TAIPEI TIMES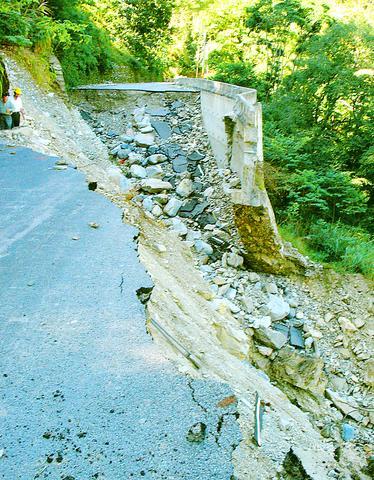 Three months after the passage of Tropical Storm Mindulle, a main road remains collapsed at Pahsien Mountain in the Tachia River basin. Ecological conservationists blame road construction in mountains for ecological deterioration.
PHOTO: CHIU YU-TZU, TAIPEI TIMES
Comments will be moderated. Keep comments relevant to the article. Remarks containing abusive and obscene language, personal attacks of any kind or promotion will be removed and the user banned. Final decision will be at the discretion of the Taipei Times.